Companies
Monterey businesses pivot to provide technical help during pandemic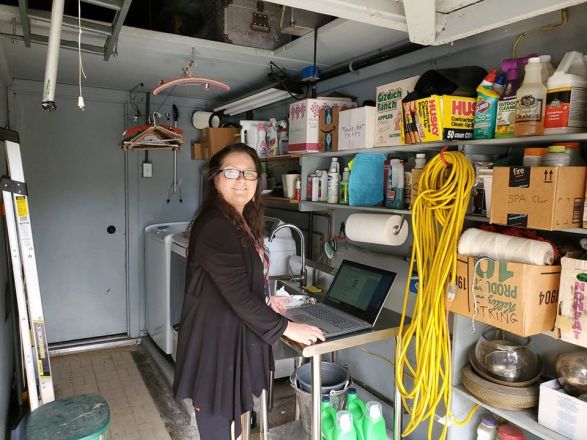 By Lara Strieff
Monterey Herald
April 28, 2020 — Monterey, CA
(Photo above: Maren Elwood, a local marketing consultant and anthropologist, has turned her small BMW coup into a curbside electronics repair service. Source: Monterey Herald)
Local repair options are available and these merchants are innovating to serve their customers safely and reliably
Apple's Genius Bar is not open for business. Best Buy's GeekSquad is not taking appointments. As people are more dependent on their devices than ever, repairing or replacing them has simultaneously become more challenging.
But do not despair — local repair options are available and these merchants are innovating to serve their customers safely and reliably.
In California, the overwhelming majority of households own a computer or smartphone (92% in 2016 — likely more since then). For many, it has become an essential item for working, communicating with friends and family, and staying informed as they shelter in place. But what happens when a morning cup of coffee splatters across your laptop keyboard? Or a recently stuck-at-home toddler chucks your new iPhone to the ground, shattering its screen?
"We have had to totally change the way we do business," said Matt York, owner of Monterey Computer Repair and Smartphone. "It's challenging to say the least."
While his previous service model involved a significant amount of face to face time with customers to explain issues and talk through repairs, York said they are now offering "no-contact" service instead.
York said he was worried about COVID-19 before many others started taking it seriously. He had scheduled to close his shop for a week as a precaution. The day after the doors shut, the shelter-in-place order was announced.
Continue reading here: https://www.montereyherald.com/2020/04/27/coronavirus-finding-technical-help-in-troubling-times/
###
Tagged COVID-19, Monterey, Shelter at home