Companies
Watch: New video showcases Startup Sandbox incubator and its partnership with UCSC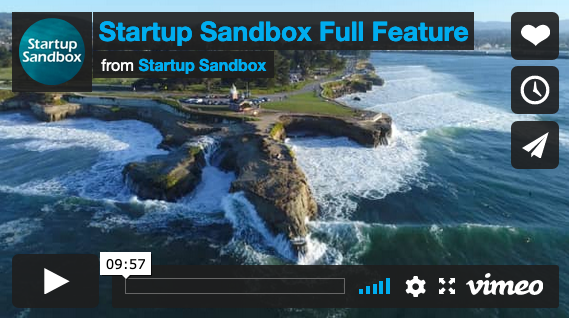 By Startup Sandbox leadership
Special to Santa Cruz Tech Beat
October 21, 2020 — Santa Cruz, CA
UCSC leaders and startup founders talk about the local bioscience incubator and associated biotech startups
[Startup Sandbox Full Feature from Startup Sandbox.]
The world-renowned innovative research taking place at UC Santa Cruz is truly something special that deserves more recognition and a larger allocation of resources.
Many are not aware that the University of California (UC) system, of which UC Santa Cruz is a key part of, is the largest public research university in the United States with 10 campuses, 5 medical centers, 3 affiliated national laboratories, a statewide agriculture and natural resource division, and 4 California institutes for science and innovation. The UC system is comprised of more than 280K students, 230K faculty and staff, and 2M+ alumni.
The UC system has the largest intellectual property portfolio of any university in the nation, its research generates 5 inventions per day on average, its operations drive $46B in direct economic impact across the state of California, and its investment portfolio exceeds $120B.
Specific to our local community, UC Santa Cruz is a world leader in applied research in areas of molecular RNA, genomics, bioinformatics, nanopore sequencing, chemistry, biochemistry and many other disciplines revolving around environmental engineering, robotics, computer science, and autonomous vehicles, to name only a few.
Perhaps the most salient example of how Santa Cruz locals can see their investments in UC Santa Cruz returning on their promise to serve the public good is the University's Molecular Diagnostics Lab rapidly shifting all its resources to tackling local Covid-19 testing.
At Startup Sandbox, a Santa Cruz based nonprofit bioscience incubator, it is our mission to see to it that all this desperately needed disruptive research and applied science makes its way into the commercial markets, from where it can be made readily available for use in people's daily lives. The overarching impact of commercializing these innovations yields substantial improvements in both the health of humanity, and the health of our environment.
This is the full story we set out to accurately highlight in our latest video series. One in which the UC system, with UC Santa Cruz playing a vital role via its core areas of competence in the biosciences, develops more intellectual property than any other university system in the nation, who the people are leading these crucial efforts and developing this IP, and how it is Startup Sandbox serves as a vehicle for this important work to leave an academic setting and reach the commercial markets where we can all realize the benefits while also building a more robust economy and healthy community in Santa Cruz.
We encourage anyone reading this to consider supporting all these much-needed efforts by supporting the Startup Sandbox, a 501c3 nonprofit bioscience incubator located on the West Side of Santa Cruz. Donate to Startup Sandbox.
###
Tagged Aeroasis, Astrea Forensics, Baskin School of Engineering, Biotech, Claret Bio, CruzFoam, Startup Sandbox, UC Santa Cruz