Companies
Digital NEST has supported youth virtually during the pandemic and now begins to welcome members back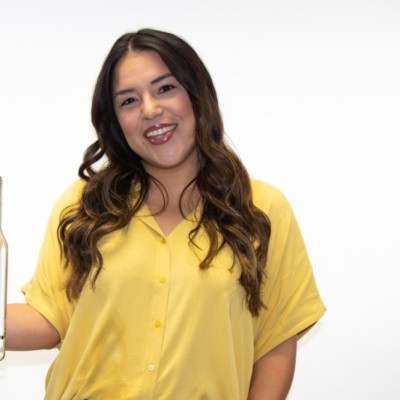 By Sara Isenberg
Founder, Publisher, Editor-in-Chief, Santa Cruz Tech Beat
September 23, 2020 — Watsonville, CA
(Photo above: Jenna Rodriguez is the Development Coordinator at Digital NEST. Source: LinkedIn)
Digital NEST closed in-person activities in March due to Coronavirus but they've actually been very active none-the-less. What's open and what's closed now? I had the opportunity to get a status update with Jenna Rodriguez, Development Coordinator at Digital NEST. In partnership with the Development team, Jenna's role is to help with fundraising campaigns, marketing, social media and events. She's just the right person to tell us how the organization has been handling the pandemic.
SCTB: What's been going on at Digital NEST — both in Watsonville and Salinas — since mid-March when shelter-in-place started?
Jenna Rodriguez (JR): Digital NEST, both Watsonville and Salinas sites closed for in-person work and courses early March when shelter-in-place was ordered. We immediately switched all programs to be delivered virtually — luckily, no courses had to be cancelled or moved, and one-on-one mentorship was held through virtual office hours. It was really amazing to see our staff and members make the transition so smoothly, and it's something we're all proud of.
NESTworking, our safe space for youth to work and check out tech equipment had to close; however, equipment lending was set up in the early weeks of the pandemic for members to come and check out any equipment they needed for online classes. These equipment lending stations have continued throughout the pandemic for both sites as we've completed Spring courses and launched Summer and Fall courses.
SCTB: Are you open again now?
JR: Courses and workshops continue to be virtual for both sites. We're excited to share that as of last week, our NESTworking space in Watsonville has recently reopened, with all of the requisite safety precautions being taken. We're welcoming members back and inviting local students previously unaffiliated with the NEST to come and utilize the space.
We currently have 12 open (and distant!) working spaces per session, offered Monday through Thursday. There are three time blocks to sign up for: 3pm-4:30 pm; 5pm-6:30 pm; and 7pm-8:30 pm. On Fridays, we are offering one time slot from 2pm-3:30 pm.
In our soon-to-launch brand new space in downtown Salinas, tours and member work spaces will be available starting in late October and early November.
SCTB: Are you back in full operation or limited services?
JR: Programs will continue to run virtually, while NESTworking on-site will continue to be limited and by appointment only until further notice. We will be celebrating Digital NEST's 6th birthday virtually on Tuesday, November 17th at 5:30pm, and we encourage everyone to save the date! We will have lots of exciting appearances from special guests and share member stories and projects. Find more information on our website soon: digitalnest.org
SCTB: During the shutdown, did Digital NEST offer or expand online services or online classes? What about social or networking activities?
JR: Members quickly transitioned from in-person courses to virtual and were provided continued mentorship through one-on-one check in and virtual office hours. bizzNEST, Digital NEST's in-house consulting agency continued their work supporting small business and community partners through the pandemic and were sought out for help in getting information and resources out to the broader community one example being the Spanish COVID-19 PSA video created for Salud Para La Gente: a video that went viral as a much-needed resource when there was little information available for Spanish-speakers.
bizzNEST not only helped clients with needed video and graphic design, the web development team created @831 [at@831.org] — a small business directory and service guide to ensure all our small downtown businesses did not get missed in the opportunity to serve their customers who were now ordering primarily online and requesting delivery. This site continues to be a resource for the Watsonville community, providing up-to-date information on hours and services, and contact information. Our @831 team personally reached out to the small businesses in the downtown area, and those at the farmers market with the goal of supporting our family-owned businesses that are near and dear to us and our community!
SCTB: The pandemic has been tough on all in-person services and educational organizations. Have you found any silver linings, blessings, or things that surprised you during the pandemic.
JR: When the pandemic hit, we felt an urgency — both from our members and their families who needed help and also from our members who wanted to jump into action to lend their skills and time to support the community. It was validating for us to know that we have built a community of mutual trust and respect for the past six years, and that we had all the resources within the community to provide support to those who needed it.
One beautiful outcome was something we call NESTcorps, which started as a staff-created fund to provide financial assistance to our members and families in crisis, and eventually became a volunteer corps that community partners came to rely on for help in providing resources for our community members.
NESTCorps: NESTcorps was created due to the high urgency in addressing community needs during the start of COVID-19. Youth members were eager to take action to help solve community issues and were turning to the NEST for guidance and resources. In response, Digital NEST launched NESTcorps, a virtual program where volunteers and members came together to collaborate on practical solutions for pandemic problems. Since April, a group of 15 NESTcorps members has been meeting weekly. In that short time, they've developed five projects that have helped mitigate the impact of COVID-19 for more than 2000 community members.
Current Projects:
Public Health Campaign: When COVID-19 hit our community, COVID cases in Watsonville increased 175% over a course of six weeks. The Public Health team saw the need for additional resources and awareness. The team is currently working on updating our resource website that has been used countywide, as well as social media and direct outreach to promote safety and ways to help stop the spread of the virus.
Artist Meetup: This group came together to create a space for the community to express themselves artistically through social media. Creating three different social media challenges and one virtual event encouraging the community to get creative during shelter in place.
Past Projects:
PVUSD Elementary School Project: NESTcorps volunteers created videos for K-2 grade students to help with more engaging reading activities.
Campesino Project: An appreciation caravan that highlighted our farm workers as essential workers. This caravan provided crucial information to farmworkers in relation to the pandemic and provided them with protective equipment and resources.
UndocuFund Project: UndocuFund Monterey Bay was a collaborative effort to provide one-time emergency financial assistance to our undocumented neighbors. The campaign raised a total of $50,000.
NESThelpline Project: NESThelpline's project goal was to centralize Santa Cruz County's resources into one space. NESThelpline is being used by the COVID Task Force as the authoritative source.
NESTaid: Digital NEST was able to provide support to 34 members and their families — families who faced significant challenges due to loss of household income during the pandemic. Assistance was divided into three tiers, the top tier being youth most in need. The NEST was able to distribute more than $15,000 in much-needed assistance to members and families impacted by COVID-19 with the help of our partner — Pajaro Valley Community Health Trust, and our community of supporters who donated to the campaign.
SCTB: What do you have planned for the next 6-12 months?
JR: We desperately miss the energy and excitement that emanates from the NEST! However, we are so grateful to have been able to transition our core programs and services online and slowly offering safe and distant in-person space. We are extremely excited to open the doors of our new Salinas site this Fall, providing both a safe and accessible working space as well as equipment for members of the Salinas community.
NESTcorps projects will continue to serve the community — to be resources, awareness and aid for needs during the pandemic recovery phase.
Within the next twelve months the NEST we look forward to coming back together with the community we love so much. We hope that by then we will be offering in-person programming and connecting once again face to face with members and staff. Not only will be fully operating in all three career focus areas in Watsonville, but with the new site and fully staffed Salinas NEST, our Digital Arts and Technology, Web and Informational Technology, and People, Projects and Leadership will be in full operation for the first time since Digital NEST opened in Salinas!
For the first couple years, Salinas offered only WIT (Web and Information Technology) as well as PPL (People, Projects and Leadership) soft skills, so the expansion to programs offered is very exciting and needed for the youth and young adults of Salinas. We also look forward to seeing our bizzNEST, in-house member consulting agency grow their teams at both Watsonville and Salinas locations to work with more clients across the tri-county areas and continue supporting small business and community partners with their skills as they build their professional portfolios and take on the 21st century workforce with a competitive edge.
SCTB: Thank you! This has been very informative!
#
Tagged Digital Nest