Companies
Q&A: Jacob Martinez: This whole experience has been a bit of a dream.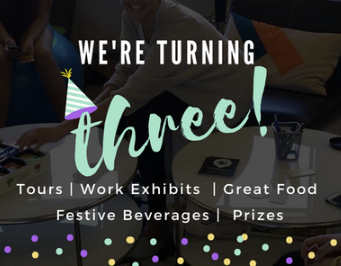 By Sara Isenberg
Founder, Publisher, Editor-in-Chief, Santa Cruz Tech Beat
October 3, 2017 — Watsonville, CA
Digital NEST prepares to celebrate turning 3!
Jacob Martinez is the founder and Executive Director of Digital NEST. (NEST stands for Nurturing Entrepreneurial Skills with Technology.) As "the NEST" turns three and prepares for a big celebration on November 12, 2017 (details below), I had the opportunity to catch up with him.
SCTB: I can't imagine there's anybody in Santa Cruz County who doesn't know about Digital NEST but for those who don't, what is Digital NEST?
JM: Digital NEST is a tech career training center for youth and young adults ages high school to 24. We provide free computers, Wi-Fi, and a full range of digital tools, workshops, classes, and professional mentoring, unlocking opportunities in tech and higher education for low-income/underserved youth in the Pájaro and Salinas Valleys. Our youth-led tech consultancy, bizzNEST, provides local small businesses and nonprofits with affordable tech services by senior-level NEST members, who earn wages for their work as they continue learning on the job, which helps stimulate economic growth in the community.
SCTB: You opened a Salinas location of Digital NEST last April. How is that going?
JM: The success of the Salinas location has been beyond my expectations. I was a bit concerned about the location, within the Cesar Chavez Library, because there wasn't street access or major signage, but students still find their way there. I don't know why I was concerned; it was a similar situation when we opened our first location in Watsonville. It took a group of committed youth to start showing up and telling their friends, and the next thing we knew, new youth came in the door daily. IN Salinas, just since mid-April, our numbers have surpassed 160 registered youth, which is faster growth than we saw in Watsonville. Youth in our communities are looking for a place to belong and be challenged. Where we've created these places, youth are responding by showing up, taking our courses, and embracing the fact that by doing so, they are preparing to be leaders in the community and workforce.
SCTB: In your dreams, did you ever imagine that the NEST would become what it has become today in just three years? That is, as followed, as successful, as funded, etc.)

JM: No way! This whole experience has been a bit of a dream. I knew that this model would work to engage youth but I never expected that so many youth and the community would gravitate to the NEST like we are seeing. We are so proud of the work we are doing. It is amazing to see so many of our members transform over time. They come in quietly, a little unclear of why they took that first step in the door, and within months we watch as their confidence and capability grow. Our youth are going to networking events with adults and giving tours to NEST visitors, meeting eye-to-eye and shaking hands with a confidence that would rival any professional. Your question, "as successfully funded" is reflective of a widely-held misperception. Funding is extremely challenging. Many people assume that because we are tech-oriented we are supported by tech companies, and unfortunately that is not true despite our best efforts! We are open because of local individual donors and a few local companies and foundations who see what our youth are achieving, and continue to support us. And I have faith – and hope – that more people and companies in our community will step up. As exciting and high-profile as our mission may be, we are like any other nonprofit, fundraising constantly to keep serving and growing.
SCTB: The NEST is clearly a model. Are there other cities that have successfully emulated what you've done here? If so, how did you help them get off the ground? What key pearls of wisdom did you share?
JM: I am not aware of any organization that operates like the NEST. I am always happy to share our model with any group that is interested in doing something similar in their communities. The more opportunities we can provide youth in communities around the nation the bigger impact we can have. We have talked with people in Texas, Iowa, and of course all across this state about replicating the model. Words of advice: find a co-founder. People always want to meet and speak with the founder! It would be nice to have someone to help shoulder all that work. It has taken a lot of my time to network, attend functions, be interviewed and take the many meetings that come my way.
SCTB: What has surprised you more than anything else about The NEST since you opened it?
JM: The shift in the youths' perceptions about themselves and their community. The youth take a lot of pride in being members of the Digital NEST. One youth went to an event in Santa Cruz and was wearing his Digital NEST t-shirt and the next day he told me that multiple people came up to him and told him that they support the NEST. I asked him how that made him feel and he said "like a celebrity." We take our youth seriously as technologists, leaders, and entrepreneurs. They continue rising up to that challenge.
SCTB: In your dreams — or in reality — what do you most wish for The NEST in the next three years?
JM: We need financial help to continue to grow the NEST here in Watsonville and Salinas. Many more youth need our services and it takes people to deliver the skills and knowledge to them, and that takes funding. The next three years is focused on refining our model and becoming financially sustainable. My dream would be at the end of the next three years to scale into other communities of need. Think about all the communities between San Jose and Los Angeles that are ignored or under-resourced. Youth in all of these communities need access to opportunity. That is my mission, to support as many youth as possible. We are on to something in Watsonville and Salinas, and we need community support to continue, and to make it happen in other communities of need.
SCTB: What are the big plans for Digital NEST's 3rd birthday party? Is the event open to the public?
JM: Absolutely! This free and really fun party is our way of sharing with our community what our youth are achieving at Digital NEST. In addition to project demonstrations there will be food, beverages, giveaways, and fun activities. Nearly 400 people attended last year and had a blast.
Digital NEST Come Celebrate! We're Turning Three!
Sunday, November 12, 2017, 4-6pm
318 Union Street, Watsonville, CA 95076
Open to the public
Learn more and RSVP here
Show support by donating today
###
If you wish to republish this article, please follow our Terms of Use.
###
Tagged Digital Nest, Jacob Martinez