Companies
Aeroasis Helps Businesses Control Pathogen Spread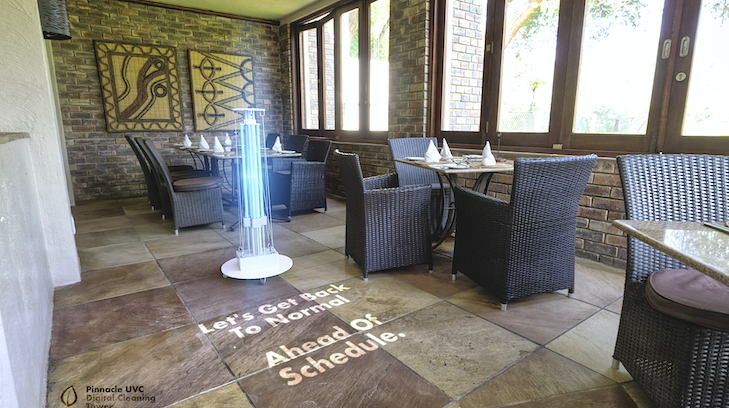 By Tom Wollenberger
Aeroasis CEO/Founder
Special to Santa Cruz Tech Beat
September 15, 2020 — Santa Cruz, CA
(Photo above: Pinnacle UVC Tower by Aeroasis is designed to clean large spaces and whole rooms in under an hour. Contributed)
[Editor's note: Santa Cruz Tech Beat has published a variety of articles about Aeroasis in the past.]
If you had told me one year ago that I would be designing futuristic cleaning tools for businesses of all kinds in 2020, I would have called you crazy.
No product development firm could have predicted Covid-19, and very few were ready when it struck. There are many similar events from this year, which leave me and many of us at a loss for words, and with a real need to pivot our efforts away from where we started and towards public safety/wellbeing. Between the fires, the pandemic, and the lockdowns, we have seen so many businesses in our community go under, and largely due to the owners seeing no end in sight. This dire situation sparked passion in me and my team which has carried us through these challenges, and forced us to work harder and faster than ever before to be of some help while we can be.
And so, in the span of just 6 months Aeroasis has gone from an AgTech consulting and design firm with over 5 years of design and execution experience, to a full product development firm that has built 5 UVC cleaning products, shipped 3 of these to customers in an early mover testing campaign, and built B2B relationships with some of the most long standing institutional businesses in Santa Cruz and beyond. Our renewed vigor and purpose in reducing the risk of pathogen spread among plants and people has given Aeroasis new life. We have grown this year to include new engineers on our team, new operational challenges to overcome as a remote working company, and a whole host of new and valuable knowledge from regulatory bodies, researchers, and internal experimentation. This all has culminated in our second official UVC cleaning product launch, which will be happening next month!
Our first 2 products that will be released at scale are Pinnacle UVC Tower and CleanFuture UVC Wand. CleanFuture is a perfect table-top cleaning solution, using a powerful 15W UVC bulb to clean small items like PPE, keyboards, and other office equipment in under a minute. Pinnacle UVC Tower takes cleaning to another level! With over 300W of UVC power from 8 bulbs, Pinnacle is designed to clean large spaces and whole rooms in under an hour. With remote control options and an included carbon filter, you can clean large spaces more efficiently than ever, with less labor and no chemicals. These large systems are perfect for gyms, offices, factories, and schools to use after closing time, and in vacant spaces during the day.
With such an uncertain end to 2020, a few things remain clear which help guide our efforts as a company, and we hope can guide your thinking as business owners and community members:
We all want to get back to a normal flow of commerce, including tourism and other people centric industries.
We all have a new level of risk to deal with in the reopening process talked about above.- We all want to keep our employees who do have to work in enclosed spaces together safe and worry free.
We all hope to benefit from technologies which can speed up the transition to a safe populated environment indoors.
We all have a financial bottom line which wasn't built for deep whole room cleaning on a daily basis using manual labor.
We all want to show regulators we are taking precautions that keep our businesses safe for operation.
The road to "normal" is a rocky one.
With these points in mind, the scramble to meet the growing needs of business owners around the US is a worthy cause for us at Aeroasis! Though we fully expect the need for UVC cleaning to drop once this pandemic has been controlled to acceptable levels, there will always be a need for cleaner, safer, and healthier indoor spaces. From flu reduction in schools every season to safer meat packing plants, UVC has a big part to play in the future of clean forever!
If you would like to learn more about UVC technology, our products, or how you can reserve your spot in line, please contact twollenberger@aeroasis.com. More information is also listed on our website: https://www.aeroasis.com/.
###
Tagged Aeroasis