Companies
Santa Cruz Welcomes Canna-Tech Innovations With Exclusive Aeroasis / 3Bros Cannabis R&D Partnership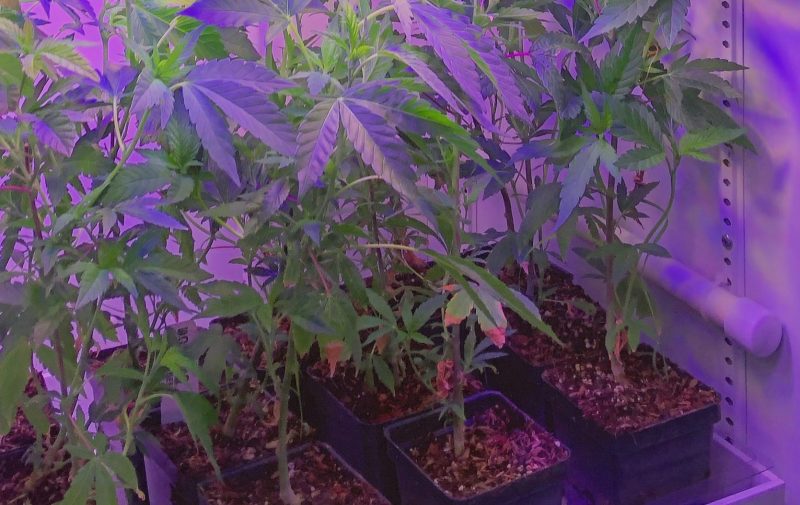 By Thomas Wollenberger
CEO & Founder, Aeroasis
Special to Santa Cruz Tech Beat
March 12, 2020 — Santa Cruz, CA
(Photo: 3Bros Grow recreational cannabis clones grow in an Aeroasis retail display unit. Source: Contributed)
Retail clone display unit changes the game in clone sales
Over the last 3 and a half years, recreational cannabis legalization in California has brought a wave of change in the way people buy, grow, and sell the plant. Santa Cruz has always embraced the cannabis culture and industry, but as a maturing space finds its regulatory legs – there is a growing need for precision cultivation and monitoring technologies to enter the playing field.
Aeroasis, a Santa Cruz-based AgTech startup developing farm autonomy solutions for over 4 years, aims to do just that – referencing the incredibly stringent and refined SOP's that already exist around controlled environment agriculture in the food industry to help major cannabis players optimize their operations.
The focus at Aeroasis has always been food and medicine at large – we are and will always be "plant agnostic" in our approach. However we have recently partnered with 3Bros Grow, one of the biggest and brightest brands in Santa Cruz and California cannabis markets. This strategic effort between Aeroasis and 3Bros will allow 3Bros to take their growing and retail clone sales operations to the next level in 2020. This will allow Aeroasis to develop novel technologies that empower 3Bros cultivation in new and exciting ways. Aeroasis is excited to work with 3Bros specifically for their creative and vertically integrated model, and their ambitious goals for scale in the California, US and global markets.
The first project Aeroasis completed for 3Bros is a testament to the out-of-box thinking at 3Bros Grow, Inc. Combining off-the-shelf housings with state-of-the-art hydroponic automation tech to create a truly beautiful retail clone display unit, 3Bros is the first cultivation / retail dispensary operation anywhere globally to implement a truly smart, app-controlled retail clone shelf system in their retail space.
This innovative move changes the game in clone sales. With a truly climate controlled micro environment, 3Bros can now sell clones and teens straight from mother plants, put into a growing media, and directly into an optimal, clean, and carefully controlled environment. The clones selected for purchase by the consumer are thriving and ready for transplant into a larger root space or pot. Clones and teens are perfectly watered, lit, and fed until they reach the consumer's home.
With a great start, the chance of a great harvest at home increases substantially. Currently in the US and Canada less than 1% of the roughly 40M cannabis users cultivate their own medicine at home, and largely this is due to the complexity of growing high quality flowers. The quality of clones from dispensary shelves has been an issue for many home growers, and this has only added to the frustrations around home cultivation. 3Bros is tackling these issues head on, empowering their customers to engage with their cannabis in new ways with less stress of risk of failure.
As the industry continues to evolve, 3Bros will be at the forefront, using their strong brand presence around the state and expanding US markets to grow their retail and cultivation operations, while adding more and more automation to their cultivation operations and making their business more lean and growing better and better product. Aeroasis is excited to be there every step of the way to develop new technologies, build out bigger and better clone cultivation units, cultivation automation, and to make Santa Cruz a hub for Canna-Tech for years to come.
About 3 Bros
Mark Taylor, COO, Tyler Smith, CEBrO and Russel Smith, CMO of www.3brosgrow.com have been around the cannabis business for over 30 years and have had a legal cannabis business since the beginning of prop 215 and prop 64. The 3 Bros grow cultivation facility was one of the first legal operations in Monterey County and the state of California. In addition to the cultivation facility is the 3 Bros microbusiness which includes a dispensary, extraction, manufacturing, cultivation and distribution. 3 Bros are in over 200 dispensaries in California and are currently being asked to expand into other states to duplicate their business model.
###