Featured
Budding Future: Longtime tech entrepreneur and new Foundation of CSUMB board member Bud Colligan envisions free higher education for all. Wi-Fi, too.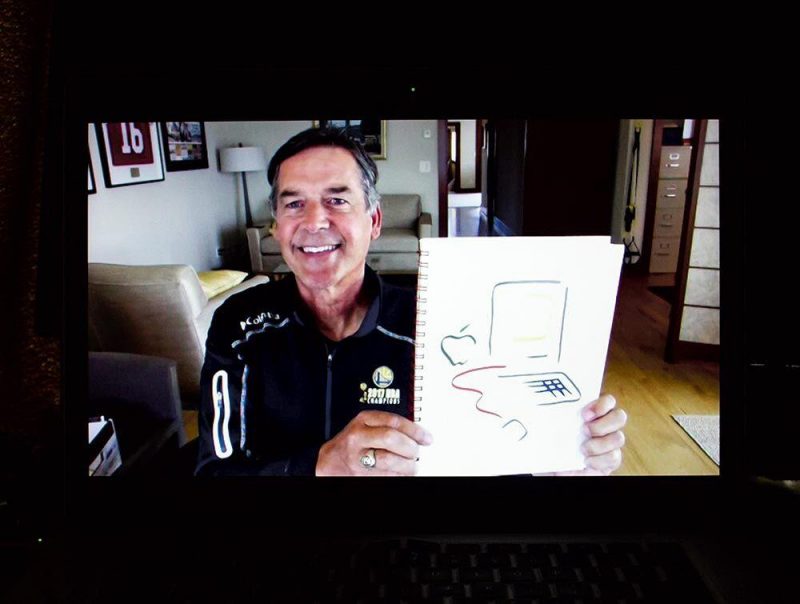 August 18, 2020 — Santa Cruz, CA
By Bradley Zeve
Monterey County Weekly
(Photo above: Bud Colligan, pictured in a video meeting, was part of Apple's team that launched the Macintosh personal computer in the 1980s, and envisioned a conversational "agent" that resembles Siri. Credit: Parker Seibold)
Bud Colligan's career in technology started in the early 1980s when he joined Apple, Inc. as part of the team that launched the Macintosh personal computer. After launching the Macintosh in Europe in 1984 and 1985, Colligan became the director of higher education marketing, where he helped the Macintosh become entrenched in higher education institutions across the country. Revenues for his division grew to more than half-a-billion dollars.
In 1987, as part of his higher ed job, Colligan spearheaded the creation of Apple's Knowledge Navigator video. It laid out Apple's vision of the future, showing a professor open what looks like a notebook on a desk to reveal a tablet-like device inside. The professor interacts with a "personal agent" appearing on the tablet's screen through voice, asking the agent for information on deforestation in the Amazon – the device speaks, and pulls up articles on the topic – and the device even places a call to one of the article authors upon request.
It was a proto-Siri idea, something that at the time seemed futuristic – but as we now know, accurately predicted a relationship to technology that has become a daily reality 30 years later.
That video was made in six weeks and premiered at a major education trade show, Educom, and provided a vision for many things in personal computing for years to come.
Because of his expertise in educational computing and multimedia, Colligan was recruited from Apple to be CEO of Authorware in 1989, and in 1992, combined Authorware with Macromind-Paracomp to co-found Macromedia, taking the company public on NASDAQ in 1993 (and serving as chairman of the board until 1998). Adobe Systems acquired Macromedia in 2005 for $3.4 billion. In 1996, Ernst and Young recognized Colligan as "Software Entrepreneur of the Year."
The longtime tech entrepreneur has also become a social entrepreneur, a community activist and an investor. As a co-founder of Monterey Bay Economic Partnership (MBEP) in 2014, Colligan has sought to improve the economic health and quality of life for all residents in the Monterey Bay region. In 2016 he spearheaded the founding of the Monterey Bay Housing Trust as part of MBEP, to facilitate more affordable housing in the region.
Continue reading here: http://www.montereycountyweekly.com/news/cover/longtime-tech-entrepreneur-and-new-foundation-of-csumb-board-member-bud-colligan-envisions-free-higher/article_b0d70796-dcde-11ea-84a0-4b35c78e992e.html
###
Tagged Bud Colligan, CSUMB, MBEP