Companies
Musician's BASS for the Win!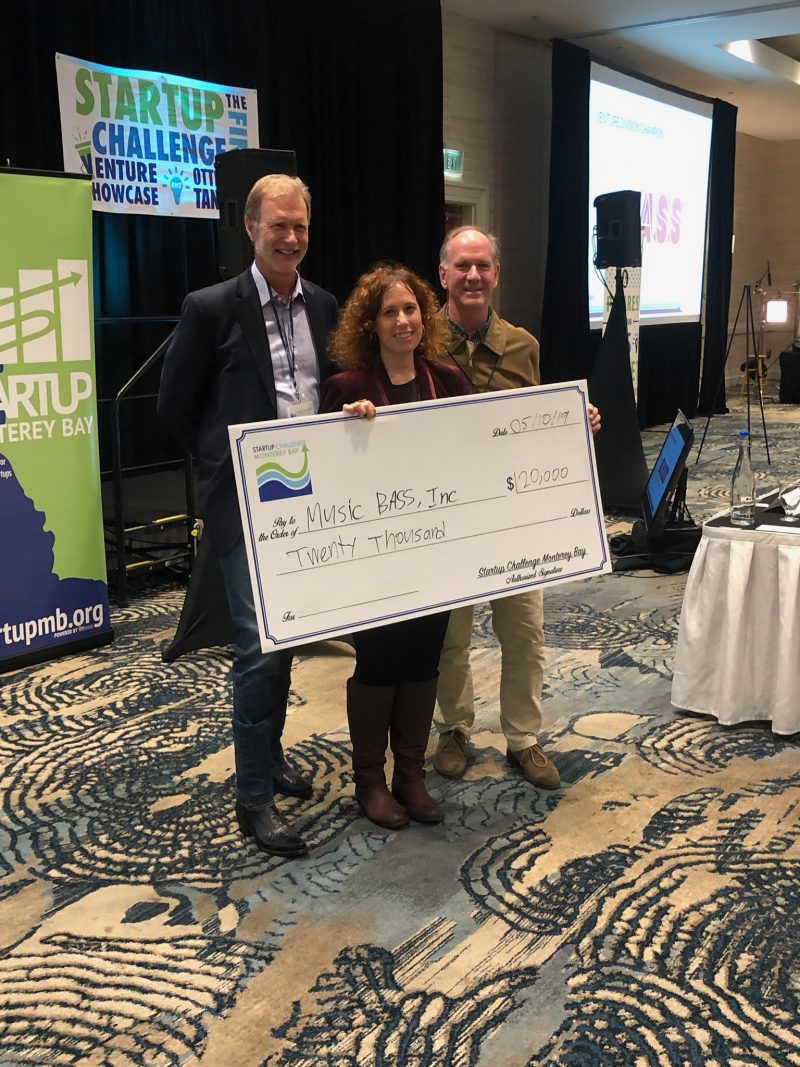 By Aliza Hava
Founder & CEO of Musician's BASS – Business Administration Software for Success
Special to Santa Cruz Tech Beat
May 21, 2019 — Seaside, CA
(Photo: Aliza Hava receives her check for $20,000 after winning the grand prize at The Startup Challenge. The prize money will be used to launch the first feature this summer. Contributed.)
Aliza Hava wins the top award for "Excellence in Innovation, Entrepreneurship, and Commercialization" at The Startup Challenge. Here's the backstory.
Two years ago I had an idea for a platform that would help independent musicians manage their careers more effectively. After touring the world as an independent singer/songwriter for nearly a decade, working with multi-platinum, Grammy-winning producers, and having my songs included on soundtracks with the likes of Jackson Browne, Ani DiFranco, and Lucinda Williams, I found that despite my achievements, I was having trouble earning a sustainable income. I began to research online music marketing techniques and signed up for every DIY music platform available. But after using many of these tools for some time, I discovered that most of what's out there falls short of what's actually needed to manage my workflow, break through the noise, and make a living in the now digitally-driven music industry.
Talking with other musicians, I learned that nearly all of the independent artists I spoke with were struggling with the same challenges. Maintaining a presence on numerous social media and streaming platforms, while also keeping up with all the new ones coming out, proved to be overwhelming across the board. Understanding how to build a solid fanbase off of random listeners on streaming platforms was an enigma. Going to music industry conferences and hearing panelists talk about the struggles we were all facing, while not really offering a solution for it, made me realize my idea was definitely worth pursuing. It took a while to wrap my head and heart around starting my own music-tech company, but it was something that clearly needed to happen.
83 companies pitch, Musician's BASS wins
I'm now grateful to say that my music-tech startup, Musician's BASS, just took home the Grand Prize in the Monterey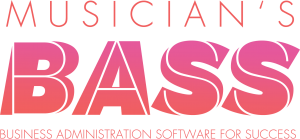 Startup Challenge, hosted by California State University Monterey Bay (CSUMB). Out of 83 companies that pitched in the Venture division, I persevered through three rounds to take home the top award for "Excellence in Innovation, Entrepreneurship, and Commercialization." The prize money will be used to launch the first feature this summer, which is a streamlined EPK (electronic press kit) solution for artists and bands looking to book their own shows.
In addition to the challenges artists face keeping their online presence updated, another issue is that most artists are so focused on the creative side of things that they aren't really sure how to treat their careers as a business. A friend recently told me when Axl Rose was asked for advice on how to make it in music, his response was to go take business classes. Many artists don't even think about this when they're first starting out, and as a result, they waste precious time going after their dreams without a solid foundation to build on.
The Vision: tools that help artists save time
The vision for Musician's BASS is to provide tools that help artists save time managing their online presence and digital assets, while also guiding them on the steps they need to take to create a long-term, sustainable career. We will be incorporating AI for deep learning on what user activity successfully grows an artist's fanbase, and ultimately, their bottom line.
A chance meeting
The Startup Challenge played a significant role in my deciding to pursue this vision. After relocating to Santa Cruz in 2013 and getting to know the music scene and the tech community via several of the co-working spaces, I had heard about a competition that could help you take your startup idea to the next level. It wasn't until a chance meeting in an Uber with someone on her way to the New Tech Meetup that I was convinced to attend the meeting, which is when I was convinced to enter the Challenge. The pitch workshops helped me understand how to formulate my idea for investors, how to do correct market research, and how to create a pitch deck that communicates my concept in depth.
Musician's path from Santa Cruz New Tech to Bad A..Super Star from Doug Erickson on Vimeo.
Incredible team
Since then, I've built an incredible team of people that includes former major label executives, #1 hit producers, music and tech experts, and the designer of the TED Talks app, who also happens to be my first investor. We are working together to design a comprehensive suite of tools that will not only help musicians, but that can also be adapted for other creative industries as well.
Indie musicians encouraged to sign up for Beta
We are gearing up for our beta launch and encourage indie musicians to sign up at www.musiciansbass.com. We are also seeking angels and interns. Please send an email with your interest to aliza@musiciansbass.com.
###
Tagged CSUMB, startup challenge