Companies
Native Microsoft Teams Now Available on Poly Studio X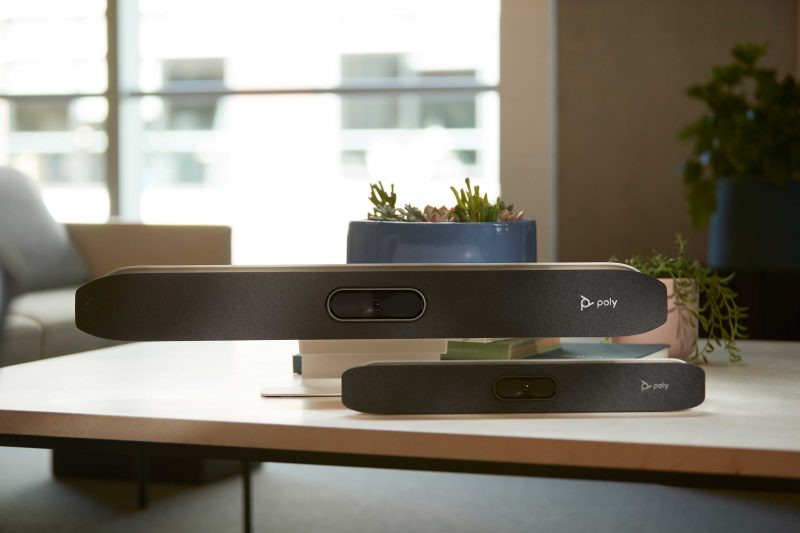 (Contributed)
June 16, 2020 — Santa Cruz, CA
Poly announces new addition to the broadest device portfolio for Microsoft Teams with the certification of the Studio X family
As conversations of returning to the office begin to circulate, operations and facilities leads find themselves in an attempt to plan for a largely unforeseeable future. Although this transition will vary greatly around the world, one notion that seems to be repeated is the need to be prepared for any possible outcome.
For many organizations, this means equipping their workforce with technology which enables them to seamlessly transition between remote and in-office working as needed – something that is only possible with the right collaboration gear and platform to serve as the glue holding together a distributed staff.  Since COVID-19, Microsoft Teams has witness tremendous growth in its daily active users — from 32 million in early March* to a staggering 75 million by April**. Today, Poly is proud to make another addition to the broadest device portfolio for Microsoft Teams with the certification of the Studio X family.
Already an affirmed devotee of Microsoft Teams? Now, you can order the Studio X30 and X50 with native Teams already running right out of the box. And, if you've already purchased and/or deployed the Studio X and would like to run the native Teams app, simply install the Poly Video OS Software 3.1.1 update and select Teams as your preferred collaboration platform.
What's New?
Proximity Join
Now more than ever, the fewer times throughout the day that you can touch shared devices and high-traffic areas, the better. With the new Proximity Join feature, you can simply walk into any available meeting space and join a meeting from your personal device via the Microsoft Teams app.
Leave Your Device Behind
Joining meetings has never been simpler, now you can walk into the scheduled meeting room and with a simple touch of the Teams button on the TC8 you're in the meeting.
Content Sharing via Teams App
Have something to share during your meeting? Now you can easily share content from your phone or laptop via the Teams app.
Consistent User Experience
Familiarizing yourself with different meeting technology is not only frustrating, but it can also cause meeting delays and waste people's time. A native Microsoft Teams experience means that users can expect a familiar user interface while meeting from their home office, desk, or huddle spaces.
Smarter Tech Meet Unparalleled Poly Quality
Poly has an unparalleled track record of driving innovation and prioritizing quality in the video conferencing space. The Studio X continues in this spirit, featuring Poly's advanced MeetingAI which uses artificial intelligence and machine learning to combat the common distractions that derail your meetings.
Best Audio — Always
Keep distracting noise and outside conversations from disrupting your meeting with Poly NoiseBlockAI and Acoustic Fence. Common noises such as typing, tapping, paper sliding, and candy wrapper crinkling are all kept out so you can hear the speaker clearly. Additionally, the Studio X's beamforming microphone array delivers crisp, clear voice pickup so you can be confident you're being heard, no matter where you sit in the room.
Production-Quality Meetings
Poly MeetingAI makes far-end participants feel like they're in the room with our built-in production rules that intelligently track the speaker – thereby keeping visual focus on who's talking. Expanding on speaker tracking and group framing functionality, the smooth tracking feature subtly shifts the camera's focus to frame a different speaker when the distance between the two speakers is small, instead of a sudden cut.
Insights & Device Management
Now more than ever, IT and Facilities Managers need actionable insights to inform big-dollar decisions about how to equip and manage their workspaces. Poly Lens provides a clear line of sight into device health trends to ensure maximum uptime. Additionally, no matter where your endpoints are deployed, Poly Lens enables IT to inventory and ensure all devices are up to date with the latest software. Together, empowering businesses to maximize their investments and seamless roll outs.
A Team Device for Your Entire Organization
No matter how or where you work, Poly has a solution to meet your every collaboration need across and outside your organization. As a certified Microsoft partner, Poly offers Microsoft Teams device solutions for Teams Rooms, video conferencing, phones/speakerphones, headsets, and professional services. With a Microsoft Teams Certified device, users experience the very best of Teams including, high-quality audio calls, video conferencing, calendar integration, file sharing, and more.
No Matter What's Next, We Got You
Without a doubt, this next year will require patience, persistence and flexibility. And, with all the unknowns, the one thing that is nearly certain will be our increased reliance on quality collaboration tools to keep businesses running smoothly. Poly is here to make sure you look and sound your best – from the board room to the living room – we got you!
Poly Video OS Software 3.1.1 update is available now via Poly's cloud management tool. Learn more about the Poly Studio X and other Poly solutions for Microsoft Teams.
###
Tagged Plantronics, Poly