Companies
FORBES: Jane Technologies launches Brand Portal and Digital Merchandising modules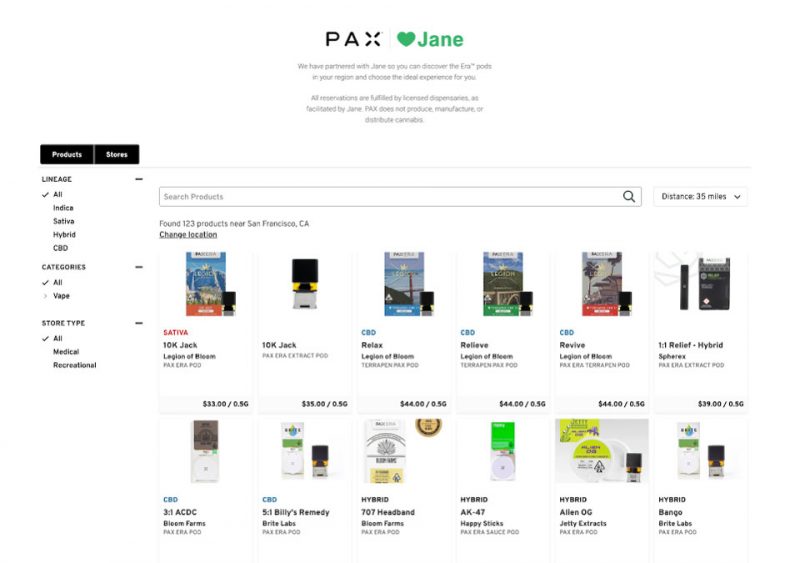 By Warren Bobrow
Forbes
June 11, 2020 — Santa Cruz, CA
(Photo above: Jane Technologies' brand portal for Pax. Source: Jane Technologies)
E-commerce technology is designed to deepen brand relationships with consumers while promoting local dispensary sales
[Editor's note: this article has been edited to highlight Jane Technologies' contributions to the cannatech industry.]
In recent months, cannabis tech companies including Jane Technologies and Enlighten have bolstered this digital boom by unveiling new tools to streamline the retail industry and help both brands and dispensaries maximize their resources.
This week, Jane Technologies launched its Brand Portal and Digital Merchandising modules designed to deepen brand relationships with consumers while promoting local dispensary sales.
Marketing and retail regulations currently bar brands from selling their products directly to consumers, creating unnecessary barriers for both companies and customers in the retail space. Jane's Brand Portal aims to alleviate this critical pain point by integrating the platform's vast network of 1,300 dispensaries with brand websites and directing consumers to local retailers that carry the brand's products.
"By using existing infrastructure and supply, we're able to promote local sales while unlocking brand websites providing consumers better convenience and choice," said Jane Co-founder and CEO Socrates Rosenfeld.
Continue reading here: https://www.forbes.com/sites/warrenbobrow/2020/06/10/e-commerce-technology-changing-the-future-of-cannabis-retail-for-dispensariesbrands/#42cb8d2e5377
###
Tagged Cannabis, Jane Technologies