Featured
Full Spectrum Cannabis Brand Protection in a Time of (Federal) Prohibition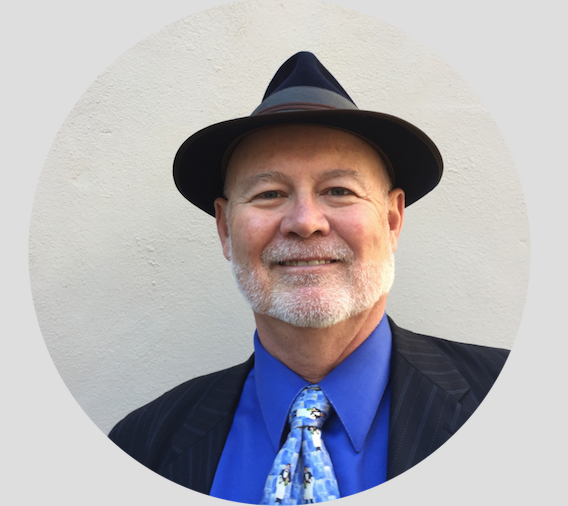 By Patrick Reilly, Esq., Founder of IP Society, with Cat Johnson
Special to Santa Cruz Tech Beat
July 17, 2018 — Santa Cruz, CA
(Photo above: Pat Reilly is the Founder of IP Society, a donor-supported membership organization working to increase public awareness of, and participation in, the evolution of intellectual property rights in the arts and emerging technologies. Credit: Jules Holdsworth)
Securing investment for a disruptive technology can be a tricky business, especially when the relevant settled law of intellectual property rights is unsettling to investors.
The software industry needed to expand copyright to cover code in order for the firms that created this

industry to be attractive for investment. The value of Design Patents in UI design was only just recently affirmed by the Apple-Samsung court tussles. The bounds of patentability for methods of fundamentally modifying biological material seem to ever be in flux, partly due to significant ethical concerns.
The cannabis industry is facing similar challenges in building investable brand equity due to the (temporary?) conflict of State and US Federal Laws. The United States Patent and Trademark Office (USPTO) won't register trademarks for cannabis products but several States will.
US Plant Patents are intended to be available for qualifying asexually reproduced plants, but cannabis innovators generally must directly admit to the federal agencies to growing cannabis in applying for these rights. Seeking a legal remedy for a breach of contract or an infringement of a trademark or a copyright by a cannabis vendor in US Federal Court can open up unpredictable legal risks.
Securing international intellectual property rights for cannabis is becoming increasingly feasible, but the legally required venture activities within the country of interest can be costly.
Brand Distinctiveness in the Cannabis Industry
Brand distinctiveness "standing out from the competition" can be a key asset for vendors of consumer products, including software, apps, clothing, food and beverages, and even cannabis products. As such, it's essential to protect your brand.
Trademark rights and copyright are often the primary intellectual property rights that enable the defense of brand equity in a crowded marketplace. However, these rights are difficult to establish and assert in the currently confused sea of local, state and federal laws regarding cannabis.
Protecting a Cannabis Brand on a Local, State and Federal Level
The legal aspects of brand protection for cannabis related products might include (a.) California State Trademark Registration, (b.) applications for US Federal Trademark Registration for herbs, CBD oil, and hemp products that are intended to be marketed in interstate commerce; (c.) securing ownership of copyright to brand related creative imagery and wording; and (d.) seeking US federal copyright registrations for works meeting the registration requirements.
Is Cannabis Registration Enforceable in Federal Court?
California State law allows for the registration of trademarks specifying cannabis products and explicitly related services as of January 1st of this year (2018). While such a registration may be unenforceable in US Federal Court, the infringement of a California State registration might constitute an unfair business practice under California law. Such anti-competitive behavior would be of concern to many county and municipal dispensary licensing authorities.
Cannabis Goods Versus CBD Oil and Hemp Products
The USPTO will not currently permit registrations of trademarks for cannabis products and explicitly related goods and services. Yet federal registrations citing CBD oil and hemp products are permitted. US Federal Registrations for CBD oil and hemp oil marketed in interstate commerce might later be expandable to protect cannabis product names under common law as the US federal law evolves.
Asserting Copyright in State and Federal Courts
US copyright law allows for the registration of original creative works regardless of their commercial use. Copyright is thus often more easily assertable than trademark rights in both State and Federal Courts. Presently, enforcing breaches of trademark licensing contracts for cannabis related goods and services is often complicated by our existing conflict of laws. Court judgments of copyright infringement and injunctions against the unauthorized use of copyrighted images are often more achievable.
Branding a Cannabis Business
The requirements for copyright registration require that a work, to include words and visual designs, include sufficient creative distinction from earlier created work. This required level of creative distinctiveness is not particularly high, but generally cannot be achieved by simple product names or a single isolated visual element.
Cannabis branding strategists are thus well advised to select very distinctive logos and associated signage to more clearly mark their product and service offerings and to better distinguish corporate identity with protectable copyrighted intellectual property.
Protecting Artists' Rights
Original authorship is also fundamental in establishing an ownership of copyright. Copyright law is very protective of artists' rights and generally considers verbal transfers of copyright ownership and verbal promises of sales of copyright ownership to be legally irrelevant.
Images and writings generated by non-employee consultants under contract do not automatically establish a transfer of copyright to the party contracting and paying for the creation of a logo, tagline, product name or other creative work; under some conditions even employees might argue for their personal ownership of copyright. Legal advice to insure the assignment of ownership of branding related works will be fully accomplished should be sought prior to engaging in the development of these works and not as an afterthought.
Legal Protections in Areas Where Cannabis is Legal
Jurisdictions outside of California offer additional relevant legal protections. Legal counsel in Canada and the States of Oregon, Washington and Colorado should be engaged when markets in these locales are within a cannabis marketing strategy. Canada in particular may offer indirect avenues to secure US Plant Patents covering asexually reproduced plant strains.
Common Law and the Evolving Legal Environment Around Cannabis
It is worth noting that both trademark rights and copyright are established under common law. Registration greatly strengthens these intellectual property rights and is highly advisable when permitted. It is advised that a cannabis industry branding strategist should consider that the evolving legal environment might soon both authorize broader scopes of registrations for cannabis products and enable more robust enforcement of initially established common law rights in civil court.
About:
Patrick Reilly is a Patent Attorney with offices at NextSpace Santa Cruz. He is the founder of the Intellectual Property Society and publisher of the FIRE OF CREATIVITY PODCAST. Patrick will be speaking briefly at the August 1, 2018, Santa Cruz New Tech Meetup regarding intellectual property strategy and the cannabis industry.
###
Tagged Cannabis, intellectual property, IP society, Patrick Reilly