Events
Local Launchpad iiED Hosts Startup Weekend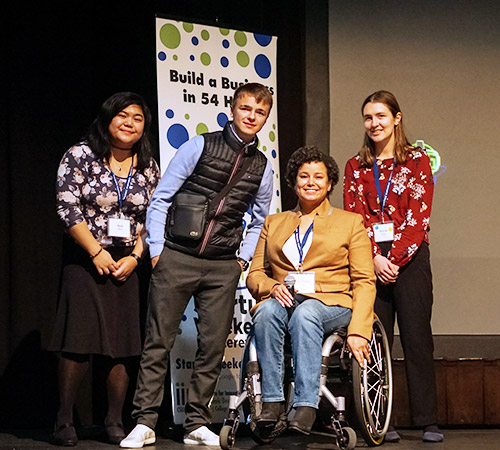 Sarah Vickers-Webb
Production & Editorial Assistant
Santa Cruz Tech Beat
January 28, 2020 — Seaside, CA
(Photo above: Startup Weekend Monterey Bay pitch contest winning team MicroSolutions from left: Aya Cabero, Bryan Zaremba, Courtney Cooper, and Anna Stubler, Contributed by Harrison Deal)
"We keep getting stronger and more sophisticated ideas at these events. We hope going through this process gets people validation from investors when they get to that stage." — Brooks McChesney, iiED Advisory Council Member.
Late Friday afternoon, community members, tech workers, business owners and students gathered at California State University Monterey Bay to network over pizza, pitch ideas, and team up to work on ventures. By the end of the evening, developers, creatives and entrepreneurs joined forces to work on 13 of the original 25 pitches. From microplastic solutions to brewery payment apps, the 8th annual Startup Weekend Monterey Bay had no shortage of ingenuity.
Each January, California State University Monterey Bay (CSUMB) hosts Startup Weekend Monterey Bay, which has been the launch pad for several innovative companies and social enterprise companies. Startup Weekend Monterey Bay is a partnership between CSUMB's Institute for Innovation and Economic Development (IIED) and Techstars.
"This weekend is as much about energy as anything else," said IIED Executive Director Brad Barbeau. "It's a weekend about designing and starting a business, not just learning about entrepreneurship. It's about doing."
A Team Effort
Over the next 54 hours, participants powered through the early stages of startup formation, conducting market research, building wireframes, and designing strategy. The event provided coaches, who circulated and helped teams, and resources including maker spaces for product creation, a business librarian, and a small business development center. The weekend culminated with a pitch competition, in which ventures were judged on validation, execution and business model.
This year's first place winner was MicroSolutions, a business dedicated to capturing micro-plastics before they enter waterways.  Microsolutions was composed of team members Aya Cabero, Bryan Zaremba, Courtney Cooper and Anne Suble. Gender equity business certification GenEqual won second place, living wall company Greenery Solutions and flight assistance platform MyAirPal tied for third, and brewery app Drank received an honorable mention.
While many of the weekend's participants were CSUMB students, others came to Start Up Weekend looking for collaborators for their ideas. In the past, the event's ratio of student to community members has been about 50/50.
Bianca Barros, who pitched GenEqual, said the event was an excellent learning opportunity, because it moved so quickly. "It's been intense and productive. We were able to accomplish more than we thought possible in 48 hours."
Others came to the event with a business already in development. Drank cofounders Taylor Epp and Eric Laio met while working sales at a Bay Area startup but stayed in contact after Epp moved to Southern California. Tired of waiting in lines outside busy breweries during happy hour, they came up with Drank, a mobile ordering app for breweries designed to streamline the process. They plan to launch the app in the next month or so.
According to Drank co-founder Taylor Epp, the event's coaches added a lot of value to the event. "The best part was getting advice from coaches. We exchanged numbers with some of them who might be able to help us out in the future. It really helped to hash out our business model."Others came to the event hoping to find people to work on their idea. Zain Quasi, who pitched the social meeting app Bonfire, came to the event from Sunnyvale searching for team members.  "At a tech company it can be hard to find people who want to work on something else on the side," he said.
A Community Process
Startup Weekend is one of a series of events organized by CSUMB's Institute for Innovation and Entrepreneurship Development, including the Startup Hackathon, the Startup Challenge, and the StartUp Investment and Community Capital Expo. The organization also hosts the Startup Monterey Bay Tech Meetup on the second Tuesday of every month. The Startup Challenge, with multiple successful alumni, is currently accepting applications from startup and emerging businesses from Santa Cruz, Benito and Monterey Counties.
Brooks McChesney, who has coached at the event since its beginning, said the event started out as a competition, but has since evolved into a learning experience about the process of starting a business. "The breadth of ideas have also increased. In the beginning there were of social media companies. Now we have medical companies, food companies, drones, all sorts of small businesses."
McChesney is currently mentoring two former Startup Challenge participants who are currently building successful businesses that began at the event, Apostrophe and Carmel Honey. "We keep getting stronger and more sophisticated ideas at these events. We hope going through this process gets people validation from investors when they get to that stage."
Program Manager Mary Jo Zenk has been with Startup Weekend since the beginning and is proud of the success of IIED's programs. "It's a year long process and its all about building entrepreneurial community."
###