Featured
Science students working in labs have huge impact on testing efforts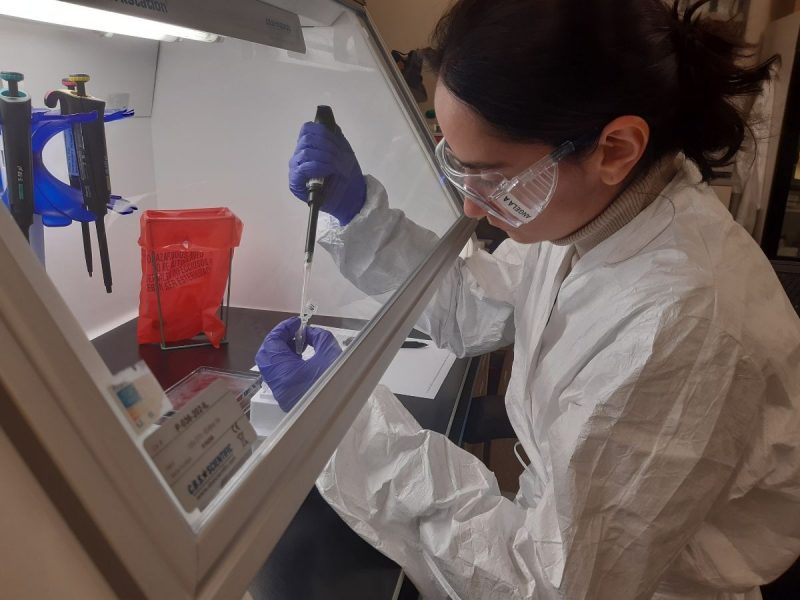 By Sophia Huang McKenzie
CSU Monterey Bay
May 27, 2020 — Seaside, CA
(Photo above: CSUMB science student Angela Albanese volunteers in the Monterey County Health Department lab to help test for COVID-19. Source: CSUMB)
CSUMB student volunteers help COVID-19 testing capacity to increase dramatically by seven times in just five weeks
Early on in the global pandemic, CSU Monterey Bay student Angela Albanese learned the alarming news about the heavy toll the coronavirus was taking in her home country of Italy. The epicenter of Europe's outbreak, Italy logged the highest number of coronavirus deaths in the world in March.
"What COVID-19 caused back home scared me, but also pushed me to take action," Albanese said. "When I heard that the Monterey County Health Department needed extra help with the COVID-19 testing, I immediately made my time and lab skills available to the community."
Albanese, a biology major in the College of Science, is one of several area science students who volunteered to work at the lab when a call went out for help. The lab previously had only three employees to conduct testing, and no funds to hire more.
The student volunteers enabled COVID-19 testing capacity to increase dramatically by seven times in just five weeks, the lab told CSUMB's KAZU radio station in April. The lab extended its hours and testing numbers went up from about 20 specimens a day to a record number of 150. Patients in Monterey and San Benito counties were then able to receive test results within a day or two, instead of having to wait longer.
"I am truly honored to contribute to the effort the world is making to fight this pandemic," Albanese said.
Continue reading here: https://csumb.edu/news/helping-fight-covid-19
###