Companies
SapientX Adds 35 New Languages to Its Digital Assistant Software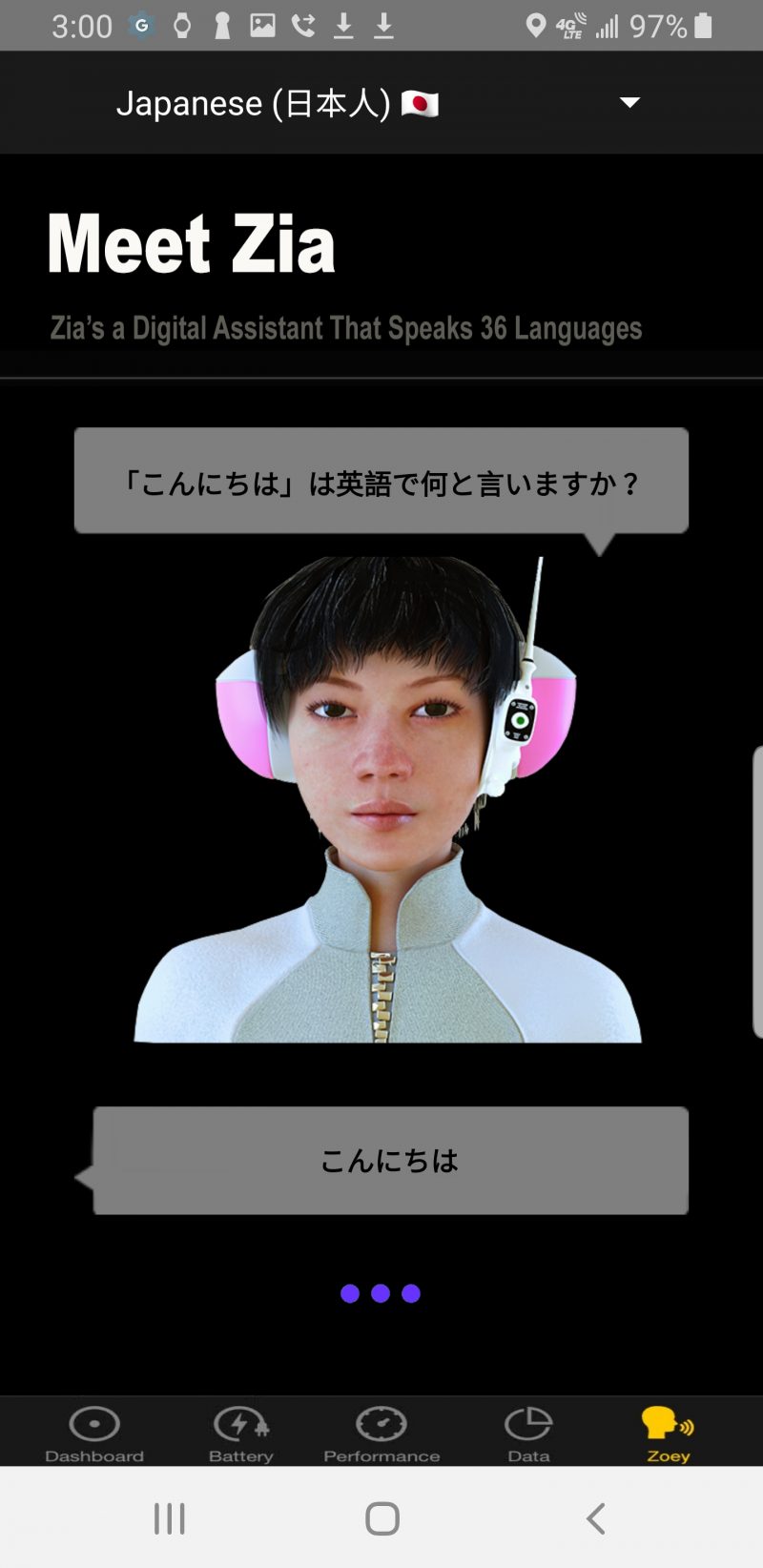 By David Colleen
SapientX CEO & Co-founder
Special to Santa Cruz Tech Beat
November 14, 2019 — Santa Cruz, CA
SapientX makes white-label software to add voice and intelligence to cars, motorcycles, robots and all sorts of consumer electronics. Zia is a voice assistant that speaks 36 languages and dialects.
[Editor's note: Santa Cruz Tech Beat has previously published articles about SapientX: SapientX: Voice Enabled Artificial Intelligence for Cars and Consumer Products (10/16/18) and Voice and Intelligence for Autonomous Vehicles. (10/30/18).]
SapientX is a Santa Cruz based startup that makes AI powered, digital assistant software for cars, motorcycles, robots and consumer products.
When I travel abroad these days, it's normal to begin a discussion in English… even in the small mountain villages that I just visited in Sardinia with my wife Robin. It wasn't always this way. After college graduation, I spent the summer traveling to most of the counties in Europe, with my backpack, a Eurail Pass and two hundred dollars in travelers checks. It was fully expected that I would learn the language basics for each country visited and since this was before the Euro, I had to change my money to the local currency at each border crossing. I lament the passing of those days because language, like food, tells the story of people and their lives.
When SapientX founders Bruce Wilcox, Maclen Marvit and I began working on voice systems together, we wanted to go beyond the keyword-based chatbots used by voicemail systems. We wanted to produce a voice assistant that analyzes everything you said to it, comprehends your intentions and delivers a natural sounding, conversational response. This was difficult work but we began to develop an English based system that reached high voice response accuracy in 2016. We were excited by what we could do with this technology, but our excitement was soon deflated by our second customer, Seoul based Future Robot, who insisted that our system, for their robots, also speak Korean. It's as if we had just climbed a high peak only to find dozens of new, taller mountains beyond it.
Over the past three years, dozens of companies told me that they would use our software in their products, if we only spoke Japanese or German or Chinese. We knew, that in order to grow, we would have to take up this challenge. This summer, we were asked by a large navigation systems company to provide our voice assistant in 28 languages for the countries where they sell their products. The situation seemed do or die. After a brief team huddle, we decided to do what seemed impossible and develop support for not just a few languages but a total of 35 global languages and dialects allowing us to reach 5.3 billion potential users!
Lucky for us, our software was designed with a high level of pattern and concept recognition abilities – two things necessary for artificial intelligence agents to respond to natural human language patterns. We theorized that perhaps, we didn't need an intimate understanding of each language, if we could see the words in each language as patterns that once recognized, we could match to an appropriate response or perform an appropriate action such as opening a car door. To my amazement, our first prototype, in Japanese, worked using this approach. We were onto something.
We found that a large challenge was in the accurate translation and testing of our system. My eyes are not trained to recognize Japanese or Chinese characters or non-roman alphabets, such as Greek, so performing error checking and corrections was very slow. To help with this, we added translators and voice artists who speak their languages natively and live in all parts of the world. This 35-person, extended team worked with us all summer, around the clock… doing what seemed to be the impossible
Today, I'm happy to announce Zia, our new voice assistant prototype. You can see her in action here. Zia is already making a hit with our customers and we are in a proposal to make a version of Zia to teach Chinese school kids to speak English. I predict great things for Zia. BTW… Zia's name comes from Ziad Fazah, the controversial holder of the Guinness Book of Records title for the most spoken languages (58)!
SapientX is a Santa Cruz story but it's also a global story in that we could not have done this work without the help of dozens of new friends and teammates.
About SapientX
SapientX was founded in 2016 to make conversational software that could be added to other people's products to give that product a voice and intelligence. The company was founded by Bruce Wilcox (an award-winning conversational AI scientist), Maclen Marvit (a rocket scientist from JPL and Blue Origin) and David Colleen (an architect who brought the first talking characters to the internet). Together, they have produced conversational AI systems for companies such as LG, Mitsubishi, Future Robot, Samsung, KTM and Zero Motorcycles in Scotts Valley.
###