Companies
SapientX: Voice Enabled Artificial Intelligence for Cars and Consumer Products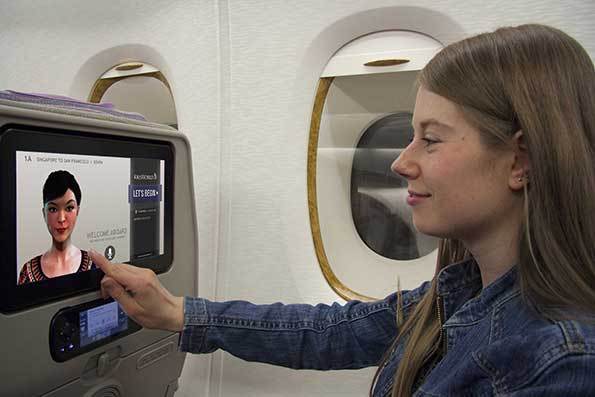 By David Colleen
SapientX CEO & Co-founder
Special to Santa Cruz Tech Beat
October 16, 2018 — Santa Cruz, CA
(Photo above: Kira assistant in a Singapore Airlines mockup. Soure: SapientX)
"The future of computing lies in the ability to converse naturally with your technology. We designed SapientX, from the ground up, as a system to let our technology talk to us… like we were talking to our best friend." — David Colleen, CEO
Today's smart assistants are in 25% of American homes and their popularity is growing rapidly. Their initial success was dimmed by a poor user experience. Current products force users to learn commands, blocking the natural conversation that we desire. Another drawback is that they can't handle complexity of speech and multi-tasking. Moreover, they consume mountains of sensitive user data that is stored for marketing and development of user profiles or that gets used for targeted advertising.
SapientX was built to avoid these pitfalls by using computational linguistics approaches based in concept and pattern matching to truly understand the user's intent and emotion, and to respond to you conversationally. This approach is so effective that we outperform the tech giants, in conversational intent comprehension, by an average of 2X in our tests!
I co-founded SapientX in 2016 in Santa Cruz. Our 12-person team is led by Bruce Wilcox, our Chief Scientist and myself (CEO, David Colleen). Our A.I. work began at Planet 9 Studios, in 2003 making use of Government R&D funding to build a talking, digital human. In 2009, Bruce joined our team and we applied our A.I. research to digital assistants for our navigation and social networking system developed for Clarion, Magellan, Blaupunkt and BMW. At that time, we found that the A.I. driven assistants worked well but that full, voice conversation needed better speech recognition technology (only about 50% accurate then).
With advances in speech recognition technology, by 2014 there was a clear path to using speech recognition in consumer products. We formed SapientX to focus on conversational A.I. that preserves sensitive consumer data, while running in "the cloud" or on "the edge". Today, we are busy working with our first customers who make cars, robots, medical applications and even airplanes.
Another difference with Sapient X is that we use animated avatars in our customer's products. When we began, we knew intuitively that people would feel more comfortable and entertained by talking to a character. Today, there is a growing body of academic research proving this including the following results:
33% higher social attraction
26% higher user satisfaction
42% higher rapport than voice only systems
In fact, these studies have shown that you are more likely to share your personal thoughts with one of our avatars than with your family doctor. We are determined to make our assistants (we call them Ultra Assistants) highly useful and to bring this next generation technology to products that you use every day.
We enjoy being part of the Santa Cruz tech community and look forward to growing here. We have begun to build working relationships with UCSC. PhD student Afshin Mobramaein is a great, part time member of our team. In the coming months, we will be adding people with app development, computational linguistics, 3D character development and general office skills to our team.
We have decided to accelerate our growth by opening an investment round that's accessible to everyone via SeedInvest, a leading investment platform. We will use the funds from this round for product development, sales & marketing and patent development. To invest & read more about our campaign, head over to our Seedinvest page.
Learn more at www.sapientx.com
###
Tagged Sapientx