Companies
Startup Sandbox Supports Emerging Bioscience Companies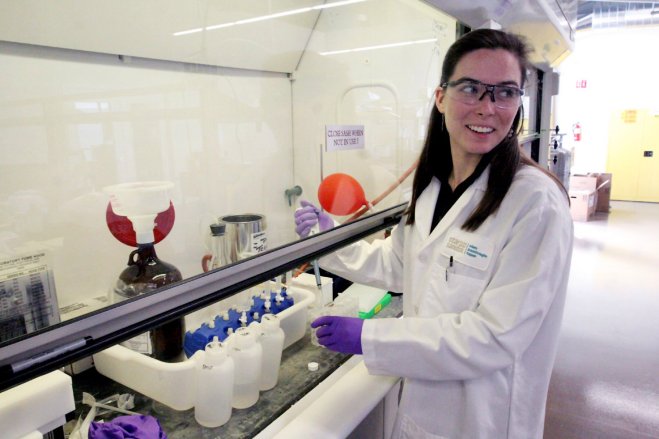 By Elaine Ingalls
Santa Cruz Sentinel
October 1, 2019 — Santa Cruz, CA
(Photo above: UC Santa Cruz grad student Alexandra Turmon uses a pipette to transport a measured amount of fluid at the Startup Sandbox lab in her work for Unnatural Products, a biotech company working to design molecules that will become drugs. Credit: Dan Coyro)
Nonprofit provides start-ups with lab space and mentorship
When space and funding is hard to come by, bioscience startups can develop their ideas and research at Startup Sandbox Inc. in Santa Cruz.
Startup Sandbox, 250 Natural Bridges Drive, is a nonprofit bioscience incubator that provides startup science companies with rentable lab and office space to grow their business and develop a commercial product. It targets companies researching molecular RNA, genomics, chemistry and more in the science field.
Startup Sandbox was established through Assembly Bill 2664, which provided funds to the University of California system to support entrepreneurship and build labs. In 2017, Startup Sandbox started leasing its building, previously occupied by UC Santa Cruz, and finished construction of its lab in June 2018. During construction, companies rented the 200 square foot break room upstairs of Startup Sandbox and converted it into shared lab space.
Startup Sandbox is the only bioscience incubator on the Central Coast, according to Chief Operating Officer Michael Lund. CEO Lou Pambianco and Judy Owen are co-founders.
Lund and Pambianco meet regularly with the start-ups to learn about their progress and mentor and support the companies in developing a product
"We facilitate the rapid commercialization of products," Pambianco said, adding that they help start-ups move from the research component to accelerating business.
Continue reading here: https://www.santacruzsentinel.com/2019/09/30/startup-sandbox-supports-emerging-bioscience-companies/
###
Tagged Startup Sandbox