Companies
NEST Flight: Connecting College Students to Careers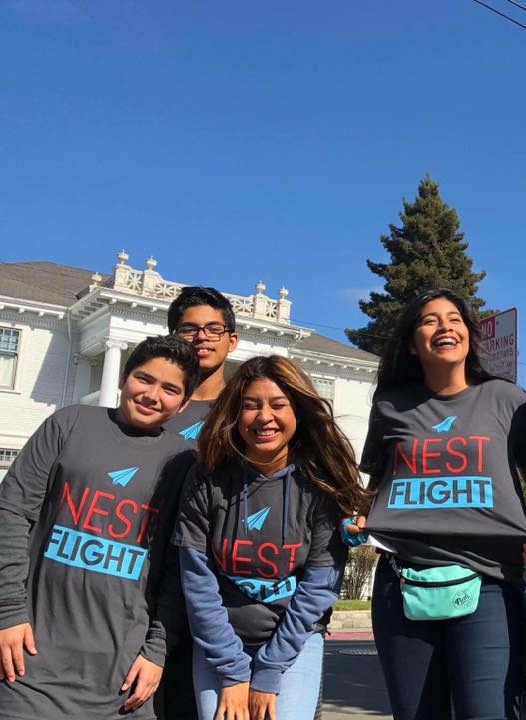 By Jennifer Carr
Digital NEST Board Member
Special to Santa Cruz Tech Beat
September 3, 2019 — Watsonville, CA
"Local companies are looking for local talent with college degrees as well as drive, grit, and loyalty." — Jacob Martinez, Executive Director, Digital NEST
This year's conference will take place on October 12, 2019, and will be attended by over 300 youth — all from under-served student groups attending local colleges. The NEST Flight team is actively recruiting mentors.
Did you enter college knowing exactly what career you wanted to pursue? If not, you are not alone. Many students enter college with the goal of landing a great career once they graduate. However, after they are deep into a degree program, many realize they have no idea what type of career they want to pursue and in what type of industry. Colleges have "career fairs" to help youth engage with possible employers, but when students attend them, they are still stymied by the various names of jobs offered (what does a "Data Analyst" do?) and the types of companies offering them.
In parallel to students lacking insight on career path options, local companies are finding it hard to find and keep the talent – especially tech talent. "Local companies are looking for local talent with college degrees as well as drive, grit, and loyalty," says Jacob Martinez, Executive Director of the Digital NEST.  "Local companies are constantly reaching out to us seeking employees," says Martinez. With the talented youth in the local colleges and the employers seeking talent, the Digital NEST team felt compelled to connect them, and NEST Flight was born.
NEST Flight is all about inspiring and educating the attendees about career opportunities available to them and connecting them with mentors and local organizations.
The conference is a comprehensive program that includes inspiring keynotes, Q&A panels filled with professionals from a variety of careers and industries, hands-on workshops taught by companies like Looker & LinkedIn, an intimate lunch with a professional mentor, and a visit to the "Opportunity Hall" where over 20 companies hosts tables and talk about career paths and current openings. In fact, Guy Kawasaki will be one of the keynote speakers at the 2019 conference, sharing insights on his unique career journey and distributing signed copies of his recent book, Wise Guy to attendees.
The inaugural NEST Flight took place in October 2018 and was a phenomenal success. Over 200 attendees, 28 sponsors, and representatives from local companies turned out for an unforgettable day of inspiration, learning, and connection.
"As a local employer, NEST Flight 2018 was an outstanding opportunity to interact with talented students interested in building a career here in this area. Personally, I found it inspiring to spend time with the attendees, who were full of potential and energy, and who will clearly be so important to the future of our community," said Nishan Moutafian, District Manager at Driscoll's. Surveys after the 2018 conference reported attendees feeling more confident, empowered, and informed about how to navigate their career journeys.
This year's conference will take place on October 12, 2019, and will be attended by over 300 youth; all from under-served student groups attending local colleges. The event takes place in several venues throughout downtown Watsonville. Many organizations have been so impressed with the goals of the conference and the outcomes from the 2018 event that they have decided to be a sponsor in 2019, including Looker, GitHub, Poly, Chase Bank, UCSC, Cabrillo, Driscoll's, Cal Giant, Comcast, ENGIE and many more.
Seeking mentors
One of the most important aspects of NEST Flight is giving the attendees an opportunity to engage with local professionals who are in careers the youth may be interested in. The NEST Flight team is actively recruiting professionals who would be willing to attend a Mentor Lunch with 5-6 attendees, talk about career journeys, and answer questions. If you are interested in participating in the Mentor Lunch and learning more about NEST Flight please visit the conference web site or contact the program team at hello@nestflight.org.
While attendees may not leave the conference knowing exactly what career path they will choose, they will leave with much more insight about the career opportunities available to them, they will have resources and connections to help them as they take the next steps on their journey, and some may even land a job interview at a local organization.
For more information about NEST Flight and the Digital NEST, please visit our web site https://digitalnest.org/.
###
Tagged Digital Nest