Companies
Women Are Big Part of AgTech Generation Innovation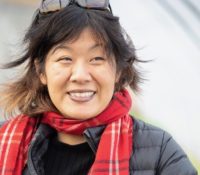 By Amy Wu
California Ag Today
August 20, 2019 — Salinas, CA
(Photo above: Amy Wu is an award-winning writer for women's ag and agtech movement and the founder and chief content director of From Farms to Incubators. She is a resident of the Western Growers Center for Innovation and Technology in Salinas and continues on its mission of expanding the profiles of women in food, farming, and technology.)
The cherry on top is that a growing number of women who are innovators and entrepreneurs in this space.
It would be overly simplistic to state that this is a tough time for growers in the U.S. The number of farms and ranches continues to decline, with a growing number of farms being sold off as farmers are faced with the rising costs of doing business, weather and climate fluctuations, limited land, and water supply and the reality that future generations of youth are turning away from agriculture as livelihood.
There are some 2 million farms and ranches down 3.2 percent from 2012, according to the 2017 Census of Agriculture. Many farms, especially large ones that have depended on thousands upon thousands of farmworkers, struggle to find field workers to plant and harvest the crops especially against a backdrop of uncertain immigration policies. Add to that data that points to a world population of 10 billion by 2050.
Growers are under tremendous pressure to produce and maintain their own livelihood. A friend, who is a grower, made an additionally thoughtful point. Most consumers are not willing to pay over a certain amount for food. A carton of strawberries, for instance, maxes out at $10 and a carton of eggs at a similar price range. Climate change and weather fluctuations add tremendous stress to what has always been a stressful career.
Continue reading here: https://californiaagtoday.com/women-big-part-agtech-generation-innovation/
###
Tagged agtech