Companies
Santa Cruz Works announces changes to board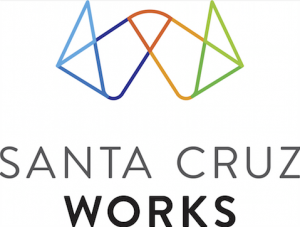 (Contributed)
August 1, 2019 — Santa Cruz, CA
Today Santa Cruz Works announces two new board members and a set of new officers charged with making it faster and easier for local businesses and talent to connect with the tech community. Since merging with the Santa Cruz New Tech Meetup in July, Santa Cruz Works now reaches 5000+ members, 50+ partner companies, and gathers as many as 300 event attendees together every month. To learn more, visit www.santacruzworks.org.
New board member Kate Roberts brings her skills and success with regional organizations.   She is currently President of Monterey Bay Economic Partnership (MBEP), a regional organization focused on connecting people and businesses in the Monterey Bay region. Over her 25 years in the high-tech industry Ms. Roberts held leadership positions in sales, marketing, partner management, and corporate social responsibility.
New board member Drew Meyer will be instrumental in developing marketing strategies to help us deliver the right message to the right audience at the right time. He currently works on Alexa Skills product marketing out of the Santa Cruz Amazon office.
New Board officer elections include:
Margaret Rosas as President of Santa Cruz Works. She brings strong expertise with non-profit organizations and thriving business support. As VP, Department of Customer Love, Margaret leads the customer support organization for Looker, which was recently acquired by Google.
Helder Carvalheira as Treasurer. He has extensive experience with Global Product Development management, including managing corporate development budgets and program financials.  Mr. Carvalheira is Vice President Global Engineering Services at Poly (formerly known as Plantronics).
Jacob Martinez as Secretary. He brings strong skills in board management and regional connections.  Mr. Martinez is the founder and CEO of Digital NEST.
"Higher-paying jobs are the backbone of a thriving economy, and Santa Cruz is the engine of the Monterey Bay's tech scene," said Kate Roberts of the Monterey Bay Economic Partnership. "I look forward to accelerating an economic base that helps our talent and passion stay right here."
"There has never been a better time to live, work and play in this community, " says Drew Meyer of Amazon. "We all succeed when our talent can work with cutting edge technology without spending hours commuting. Santa Cruz Works offers a unique way for members to engage locally and eventually find a role right here on this side of the hill."
"It's clear that Santa Cruz is on the map for major investment," said Margaret Rosas of Looker. "Now we need to keep raising that tide by supporting new jobs, new startups, affordable housing, and new opportunities. Santa Cruz Works is one way I can make our community healthier."
Santa Cruz Works is a non-profit organization building community among local employers, governments, educational institutions and talent. SCW is an advocate for the technology industry, envisioning a Santa Cruz with fewer cars on the hill, more jobs near home, and more revenue generated locally.
###
Tagged Santa Cruz Works