Companies
Disrupting the Payments Industry (In a Good Way)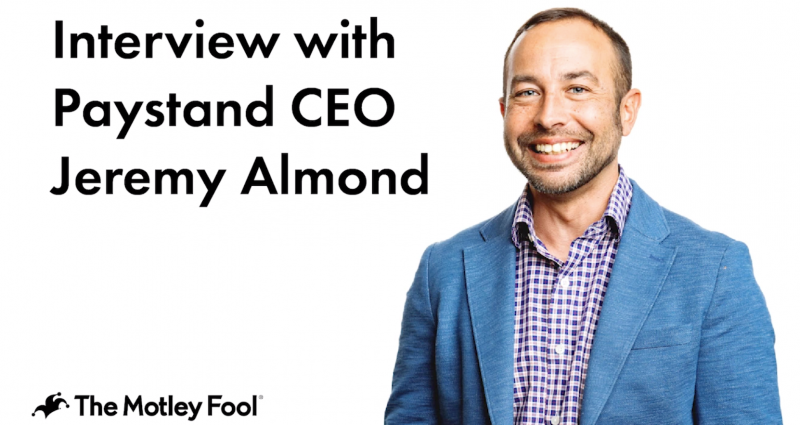 By Simon Erickson
The Motley Fool
July 31, 2019 — Scotts Valley, CA
Businesses have been paying the tolls of Visa and Mastercard's credit-card networks for decades. But Paystand CEO Jeremy Almond is building a much more innovative payment infrastructure.
Investors love the companies in the payments industry, and for good reason.
Visa and Mastercard have long been investor favorites. They've built financial empires on a payment method accepted at tens of millions of locations across the world. They're used by billions of people and process trillions of dollars of annual volume. They sport multi-hundred-billion-dollar market caps that have risen significantly in recent years.
In analyst parlance, they have very strong competitive moats. And as open-loop payment facilitators, they can operate at very high profit margins without taking on credit risk of their own.
But let's also look at the other side of the coin. Not everyone loves the credit card companies quite as much as investors.
One group that's a bit less enthusiastic is the merchants who actually accept the cards. Visa and Mastercard charge fees for facilitating transactions. Other fees are charged by the banks issuing and receiving the payments. Merchants have quietly grumbled about losing around 3% of every sale so consumers can have the convenience of using their credit cards.
Altogether, those fees are really adding up. Businesses are now bearing a burden of tens of billions of dollars every year, just to transfer money across our existing payments infrastructure.
"Payments as a service"
As you might expect, an opportunity to disrupt a market worth that much money is attracting innovative solutions — especially in the business-to-business world, where the magnitude of the invoices is higher and the potential savings are greater.
I even made the case in this piece that the payments industry badly needs a revolution. And it seems we're finally seeing some new contenders for the title of instigator.
One company taking on the challenge is Paystand, which provides a more efficient way for companies to move capital. Its payments platform is building a new underlying infrastructure, one that can support unlimited financial transactions for a fixed monthly cost.
Continue reading here: https://www.fool.com/investing/2019/07/29/how-blockchains-are-disrupting-the-payments-indust.aspx
###
Tagged PayStand