Companies
The Future Of Food Needs To Focus On Bringing Broadband To Rural Communities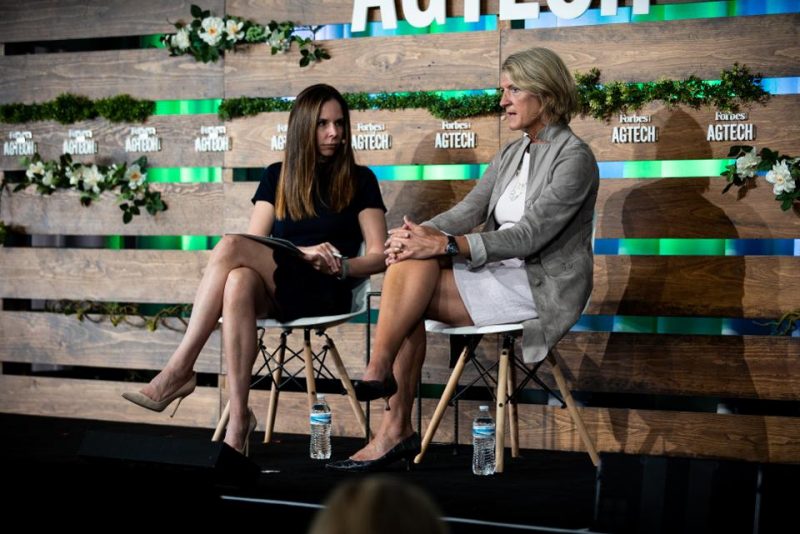 By Haley Kim
Forbes staff
June 27, 2019 — Salinas, CA
(Photo above: Rural farmers are lacking investment opportunities, resources like doctors and grocery stores and access to broadband, said Beth Ford in conversation with Moira Forbes at the 2019 AGTech Summit. Credit: Matt Kang for Forbes)
For people who live in cities, having access to wireless internet is often taken for granted. But for the farmers who live in rural areas of the United States, access to broadband can be a dire and critical need.
"Thirty percent of farmers don't have access to broadband," says Beth Ford, CEO of dairy co-op Land O'Lakes. "They are taking their children to McDonald's to sit in the parking lot to get broadband access so they can do their homework."
With the focus on the future of agriculture, it's critical to include farmers in the conversation, Ford said in a keynote conversation at the Forbes 2019 AgTech Summit in Salinas, California. Along with the inaccessibility of broadband in rural communities, there's a shortage of doctors and grocery stores, and ironically enough, food — 78% of rural counties are indexed as food insecure.
"It's everybody's problem," says Ford, who is the first woman to helm Land O'Lakes. "This is about food security for our nation, and we need to reinvest. We need entrepreneurs, in rural communities, developing businesses so there are opportunities for folks there."
Continue reading here: https://www.forbes.com/sites/haleykim/2019/06/27/the-future-of-food-needs-to-focus-on-bringing-broadband-to-rural-communities-says-beth-ford/#44fdf0f97e2b
###