Featured
Gifts accelerate research, from the galactic to the microscopic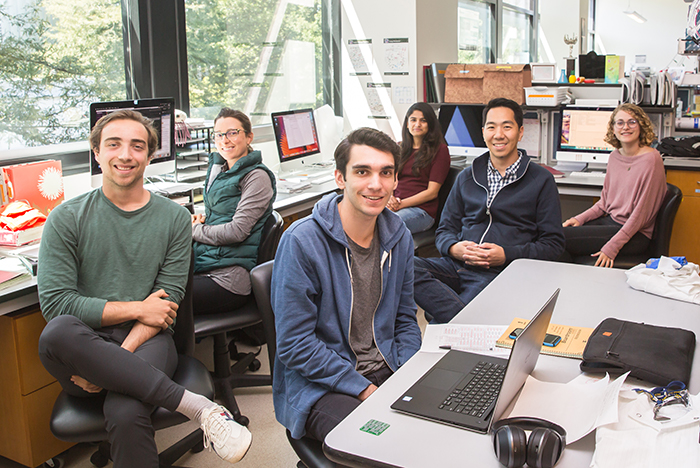 By J. D.Hillard
UC Santa Cruz
June 25, 2019 — Santa Cruz, CA
[Photo above: Daniel Kim's lab hopes to create an early-detection test for cancer. A gift from Ken and Gloria Levy is accelerating their work. From left: Roman Reggiardo (Ph.D. '23, biomolecular engineering and bioinformatics), Haley Halasz (Ph.D. '21,molecular, cell, and developmental biology), David Lenci (Carson '20, biomolecular engineering), Sree Lakshmi Velandi Maroli (Ph.D '23, molecular, cell, and developmental biology), Professor Daniel Kim, lab tachnician Erin LaMontagne (Crown '16, bioengineering). Credit: Carolyn Lagattuta]
Gifts from Ken and Gloria Levy support biomedical discovery that may help cancer patients as well as research on dark matter halos, some of the universe's largest structures
Professor Daniel Kim's lab works on technology it hopes will help doctors save lives, while astronomy grad student Enia Xhakaj researches some of the largest structures known and what they tell us about how the universe evolved.
Kim and Xhakaj recently received critical assistance from two donors—Ken and Gloria Levy, a married couple—who are fans of education and early career scientists.
Gloria Levy, now retired, worked as a teacher and travel agency owner. Her husband, Ken Levy, started a company that supplies quality-control equipment to the semiconductor industry. As young adults, neither of them would have been able to afford college except that City University of New York and Brooklyn College were virtually free in the 1960s. Since finding success in their careers, they've supported education causes because of the meaning they have for them, and because they could afford to.
Continue reading here: https://news.ucsc.edu/2019/06/levy.html
###
Tagged UC Santa Cruz