Companies
Western Growers Offers List of Agtech Startups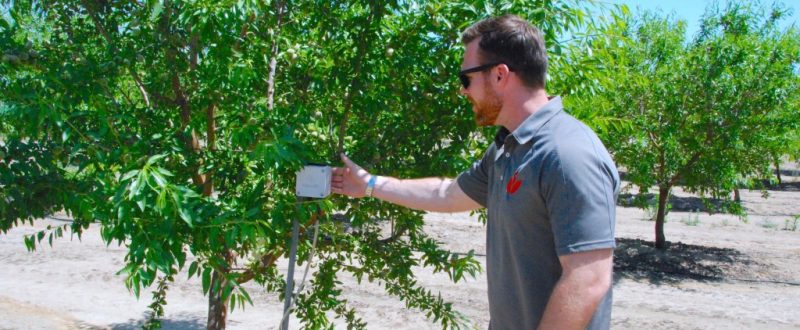 By David Castellon
The Business Journal
May 28, 2019 — Salinas, CA
(Photo above: Conner Cunningham, a field specialist for WaterBit, shows one of the small, solar-powered computers his company has installed in an almond orchard at California State University Fresno's test farm. Credit: David Castellon)
The AgTech Innovation Directory is described as "an interactive directory that acts as a marketplace for agricultural technology startups."
Back in 2014, a small business was started to develop systems of ground sensors to monitor moisture in farm soil.
But plans for the fledgling company, WaterBit, soon changed, as the founders realized the tiny, solar-powered computers they were using not only negated the need to install batteries or connect the system to the electrical grid — which can be difficult in a remote field — but they also had a reliable communication system that could be viewed and controlled online, said Conner Cunningham, a field specialist for WaterBit, which is based in San Jose, but has a presence at Fresno State.
Like many new companies marrying the latest high-tech and scientific innovations to the needs of farmers and ranchers, defining what WaterBit does can be difficult.
It certainly is in the irrigation business, but it doesn't drill wells or lay pipes, nor is it easy to tell on first glance that the technology is any different from other businesses working with soil moisture sensors.
PAGO is in much the same boat. The nearly 2-year-old Fresno-based business created a software platform for agricultural labor to help farmers and labor contractors schedule work crews, monitor hours and the volume of crops they harvest, helping farms be compliant with labor laws and rules, said Mike Dodson, founder and CEO of Lotpath, Inc., PAGO's parent business, which isn't much older, having launched about five years ago on the development of software to monitor quality control data for fruits and vegetables.
So how do farmers and ranchers find these businesses and others developing new technology when their services may not fall into the sort of easy-to-define categories that can be listed in the Yellow Pages?
Continue reading here: https://thebusinessjournal.com/western-growers-offers-list-of-ag-tech-startups/
###
Tagged Salinas, Western Growers