Events
Steinbeck Center's agricultural technology exhibit highlights trailblazing women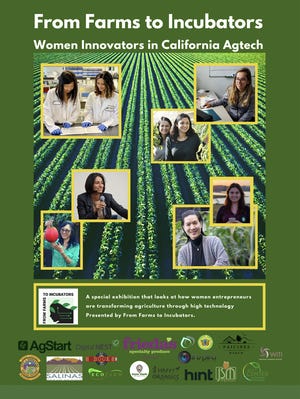 By Angelica Cabra
Salinas Californian
October 6, 2020 — Salinas, CA
(Image above: Post for the upcoming exhibit which is being shown virtually through the National Steinbeck Center. Source: Amy Wu)
Women control just 7% of U.S. farmland according to the 2012 Census of Agriculture from the United States Department of Agriculture.
Despite this fact, there are dozens of women trying to change the face of agriculture, like Diane Wu and Poornima Parameswaran of Trace Genomics, which utilizes soil science, genomics and machine learning to measure bacteria and fungi in soil.
These are just two of the women that Amy Wu, the creator and chief content director of From Farms to Incubators, an upcoming exhibit at the National Steinbeck Center, seeks to promote with her work highlighting women leaders and innovators in agricultural technology.
Wu began writing about this topic when she was covering agriculture for The Californian.
She then received several grants to make a documentary on the topic. And even after the documentary was made, she discovered that there were more stories to tell.
Continue reading here: https://www.thecalifornian.com/story/news/2020/09/29/salinas-agricultural-technology-exhibit-highlights-trailblazing-women/3566738001/
###
Tagged agtech, Salinas, Steinbeck Innovation