Companies
United Way Monterey County Co-Hosts Early Care + Education Hackathon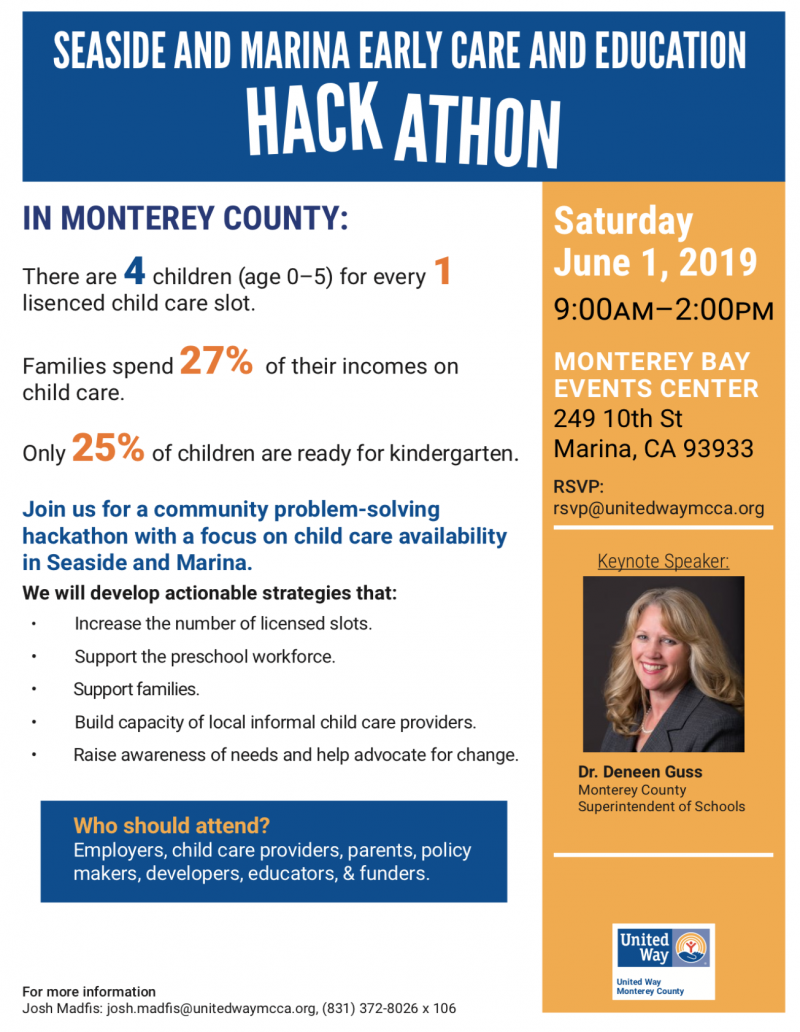 (Contributed)
April 30, 2019 — Monterey, CA
Announcing June 1 Hackathon
On Saturday, June 1, 2019, United Way Monterey County (UWMC), in partnership with the Monterey County Early Childhood Advisory Group, will host an Early Care and Education "hackathon." This community event will take place between 9:00 A.M. and 2:00 P.M. at the Monterey Bay Event Center located at 249 10th Street, Marina, CA 93933.
"At United Way, we recognize the importance of investing in early care and education and we work with our community to address this issue. The goal of this community hackathon is to develop solutions to increase access to quality and affordable child care in Seaside and Marina communities. Discussion will focus on increasing the number of licensed child care slots, supporting families and preschool workforce, and building capacity of local informal providers," said Katy Castagna, President and CEO, United Way Monterey County.
Dr. Deneen Guss, Monterey County Superintendent of Schools, will be the keynote speaker. Employers, child care providers, parents, policy makers, funders, nonprofit organizations, and educators will co-create actionable solutions that increase access to quality and affordable child care in Seaside and Marina communities.
For more information, go here. If you need more information, contact Josh Madfis, Vice President, Community Investments, by email at Josh.Madfis@UnitedWayMCCA.org or at (831) 372-8026, ext. 106.
About United Way
UWMC fights for the financial stability of families throughout Monterey County with a focus on access to affordable, quality child care and housing.  In addition, United Way provides a portfolio of financial support services and connections to help families become self-sufficient.  Family financial stability boosts student performance, increases residents' safety and health outcomes and helps our local economy grow.
###
Tagged Hackathon