Events
Santa Cruz Teen Entrepreneur Challenge announces 2nd annual hackathon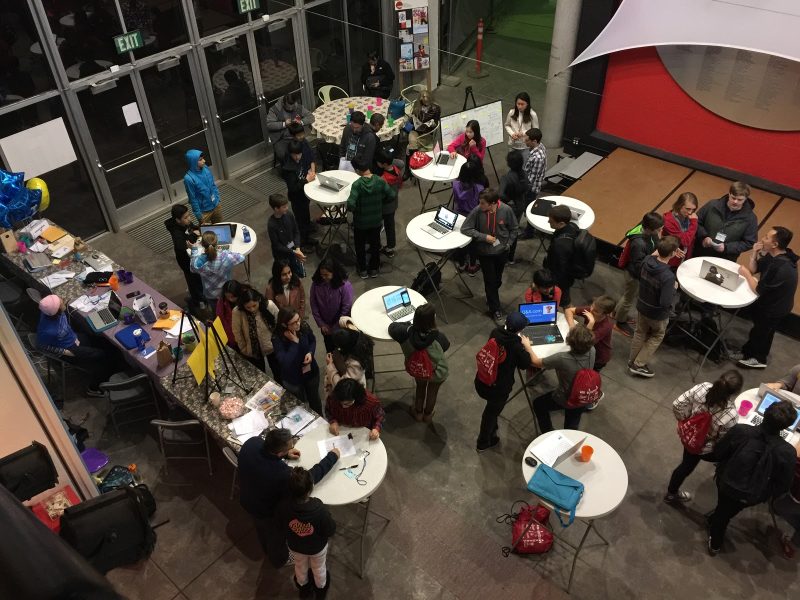 By Daphne Tuncer and Emily O'Neal
Santa Cruz Teen Entrepreneur Challenge organizers
March 9, 2018 — Santa Cruz, CA
(Photo above: Here's the scene at last year's Santa Cruz Teen Entrepreneur Challenge at The MAH. Contributed)
The Santa Cruz Teen Entrepreneur Challenge is proud to announce its 2nd annual hackathon
Santa Cruz Teen Entrepreneur Challenge (SCTECH)
Saturday, April 7, 2018, 8am-8pm
For students in grades 7-12
Santa Cruz Museum of Art and History
Learn more and Apply: http://www.santacruzteenchallenge.com
SCTECH strives to provide middle to high school students with an opportunity to showcase their interest in technology, engineering, and design. Our mission is to engage kids of Santa Cruz County in computer science, emphasizing the value of creativity and empowering kids with the confidence to believe in their ideas.
We created SCTECH to inspire the Santa Cruz community, to supply the extra push to get students excited about the ever-changing uses of technology. Especially today, where the job demographic is continuously evolving towards the implementation of new technology, it is crucial for the younger generations to become involved. With the support in schools sometimes lacking, we hope that SCTECH can provide the structure needed to get students interested.
Mentors, Judges, Prizes, Sponsors
At the event, we will have mentors from UC Berkeley, California Polytechnic University (SLO), and UC Santa Cruz. They will encourage and help the students see that they too can create the next hit app or program. We also have sponsors such as Looker, Code Naturally, Monarch Media, and Twilio supporting us with great prizes and judges and helping us encourage participants to connect with people in the community. Our sponsors also contribute to everything from the meals we provide to throughout the day to the swag that participants receive so that we can create a great event for our students.
Design, Innovator, Changemaker
The event itself is an all-day competition with different judging categories and requirements to allow for the most skill diversity and creativity possible. Most notably, we have the Design Competition category in which students utilize prototyping tools to build their projects. There are sections of this category for 7th – 9th graders and for 10th – 12th graders so no experience is required for any participant. However, for those students interested in programming their apps, we have The Innovator. The Changemaker category is open to all teams and encourages students to build solutions to problems in our community. All categories will be judged not only on excellence and presentation but on effort and creativity as well.
How Can You Get Involved?
Apply and mark your calendars for April 7, 2018! Registration is open now for only $10 and fee waivers are available. Sign up HERE! No experience, team, or idea is necessary and we encourage everyone to sign up!
If you are not a student who can compete, you can help us by spreading the word to any students who may be interested. The MAH is open to the public, so anyone is welcome to stop by and see our local students innovating. We also have sponsorship positions open as well as openings for judges and greatly appreciate your support. All you have to do is email us at sctechteenchallenge@gmail.com.
More information is available at http://www.santacruzteenchallenge.com.
###