Events
CruzHacks 2018: Driving Hackathon Culture in a New Direction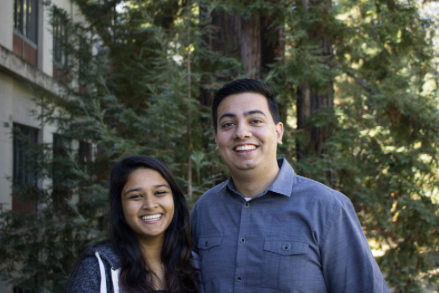 By Sarah Ali
CruzHacks
Special to Santa Cruz Tech Beat
January 31, 2018 — Santa Cruz, CA
(Photo above: CruzHacks 2018 Executive Directors, left to right: Anjali Kanthilal and Zimraan Hamid. Both will graduate in June. Contributed.)
CruzHacks 2018 demonstrated a level of success and efficiency in its 5th year of operation that exceeded that of its predecessor, Hack UCSC 2017. Since rebranding from Hack UCSC to CruzHacks this year, the event ran smoothly from start to finish. Throughout the weekend, attendees worked on coding projects with an abundance of support from organizers, volunteers, mentors, and sponsors. At any given moment (including hour of the night!), help was always within arm's reach or Slack message away.
This year's hackathon owes its success largely to the ongoing leadership of Executive Directors Anjali Kanthilal and Zimraan Hamid. In their second year as the event's student leaders and their final year as students at UC Santa Cruz, Anjali and Zimraan were committed to making their final undergraduate hackathon experience a memorable one for attendees and organizers alike. Both students worked tirelessly for months in advance, juggling the demands of academia and extracurricular responsibilities throughout to push the hackathon in a bigger and better direction before they graduated. One of their primary objectives was to implement changes suggested in feedback from attendees and organizers of last year's Hack UCSC to ensure CruzHacks 2018 avoided the problems of the past. Their hard work resulted in a more diverse organizing team, broader range of attendees, and an abundance of food, equipment, entertainment, and mentorship.
Zimraan and Anjali aimed to shift the overall culture of the hackathon from one of competition to one of collaboration, first and foremost. With the ongoing support of Major League Hacking (MLH), the event continues to be free for all attendees because of generous sponsorship from local and national businesses. Moreover, CruzHacks 2018 achieved official 501(c)(3) status as a non-profit this year. Non-profit designation renders CruzHacks attractive to sponsors as a direct recipient of donations and strengthens the bridge between student innovators and the community that supports them.
With only seven students on the organizing team in 2017, much of that event was an exercise in delegation and relied heavily on its volunteers for success. This year, the organizing team grew to fifteen students. The student organizers continued to receive support and guidance from an advisory committee of its original founders, UC Santa Cruz alumni Doug Erickson and Mark Adams, and UC Santa Cruz faculty and staff, Sue Carter, director of UCSC's Center for Innovation and Entrepreneurial Development, and Sonya Newlyn, CIED program assistant. With more students involved in an organizing capacity, the event was easier to facilitate and oversee.
Anjali and Zimraan were also committed to broadening overall diversity. This achievement was evident both in event participation and among the team of organizers, the latter composed predominantly of students of under-represented groups. Moreover, the team of organizers came from varying academic backgrounds, with majors including computer science, literature, mathematics, and politics; at all levels, CruzHacks 2018 was an exemplar of diversity, inclusion, and passion for technological development.
With Anjali and Zimraan both graduating this June, next year's hackathon will be planned and executed under new leadership. CruzHacks 2019 will be led by the newly named executive directors Karthik Manickam, Amit Saxena, and Greg Wolff. All three students have already begun reviewing feedback from this year's hackathon and discussing ways to improve CruzHacks 2019.
"One thing we've talked about is improving the experience for first-time hackers by increasing the number of workshops. We want to ask sponsors to tailor them to less experienced participants," Karthik explained, highlighting the need for range in workshop difficulty and breadth. The team also hopes to increase outreach to Latinx and African, Black, and Caribbean (ABC) students, as representation from these communities was relatively low compared to their representation within the university at large. Increasing the representation of women among hackers also continues to be a primary objective, as it was for CruzHacks 2018.
Overall, the forthcoming executive directors are eager to facilitate a hackathon that models the successes of CruzHacks 2018 but continues to push in new and challenging directions. As an organization, CruzHacks aspires to promote the development of technological solutions to societal issues, and offer the most inclusive and innovative space to do so for years to come.
###
If you wish to republish this article, please follow our Terms of Use.
###
Tagged CruzHacks, Hackathon, UC Santa Cruz