Companies
JUMP Bikes, Drones, IoT, Dark Matter, Elephant Seals, Albatrosses, Carbon Eaters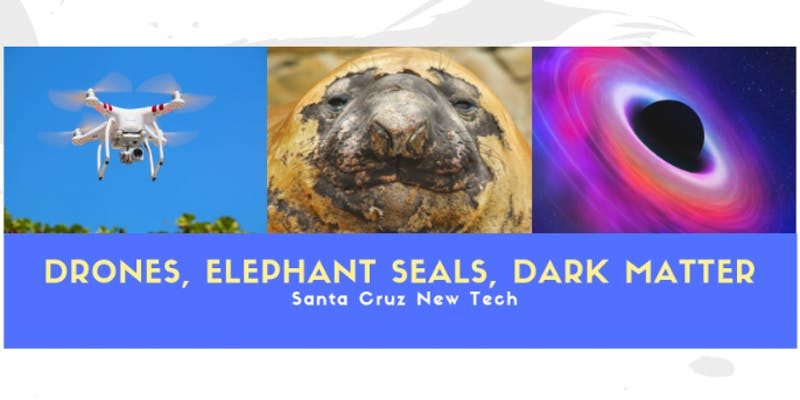 (Contributed)
(Contributed)
March 19, 2019 — Santa Cruz, CA
You may be wondering what elephant seals and dark matter have to do with our monthly tech event. Well…
Santa Cruz New Tech Meetup presents: JUMP Bikes, Drones, IoT, Dark Matter, Elephant Seals, Albatrosses, Carbon Eaters
Wed April 3, 2019, 6pm
Cruzio, 877 Cedar St, Santa Cruz, CA
RSVP and get tickets here.
Presentations
• Santa Cruz Transportation Planner / Claire Fliesler: learn about the success of JUMP in Santa Cruz, and the upcoming transportation plan for our city.
• DART / Chris Bley: there are hundreds of new jobs in drone automation and robotics technologies planned for the Fort Ord initiative.
Did you miss the recent UCSC Grad Slam? We picked some of the top grad projects
IoT Security / Minmei Wang: nowadays, we are surrounded by different kinds of IoT devices, such as smart cameras, health care devices, and etc. IoT makes our lives more convenient. Communication is an important part of IoT. But how to build a secure and efficient communication for IoT is a challenging task.
The Hidden Workout of Bilingualism / Pricilla Sung: Does speaking multiple languages improve brain function? This project investigates how bilingualism impacts the cognitive development of kids as young as 3 years old!
High Risk High Reward for Elephant Seals / Sarah Kienle: Using bio-logging technologies to examine sex-specific foraging strategies of northern elephant seals.
Albatrosses / Caitlin Kroeger: Albatrosses are incredibly efficient fliers, but rapid environmental changes may impact their ability to use the wind to find food and raise young. Using GPS tracking devices and remotely- sensed environmental data, we can model the energy costs of changing winds and predict future impacts on seabird populations.
Dark Matter / Benjamin Lehmann: 80% of the universe is made of "dark" matter. We can't see it, we can't feel it. Is it really there? Gravitational wave astronomy might help us crack the puzzle.
Our Monterey Baby Fish / Anna Lowe: sea surface temperature fronts modify larval exchange between populations in Monterey Bay and Carmel Bay. For this research, Regional Ocean Modeling System (ROMS) simulates the ocean circulation off central California and then calculate Lagrangian trajectories of where the circulation moves the larvae.
Carbon Eaters / Rachel Harbeitner: learn about novel systems developed by Rachel to conduct deep sea in situ experiments over varying lengths of time to connect the key deep sea microbial players of carbon consumption to the global carbon cycle.
Doors open at 6pm for food, booze, networking, and live music. Presentations from 7-8:30pm. Join 300+ techies and inquiring minds. Tickets are $20 at the door…if there are any tickets remaining. So grab your $5-15 tickets now.
###
Tagged Santa Cruz New Tech Meetup