Companies
Q&A: Beau Wilder, VP, Innovation Waves and New Products at Plantronics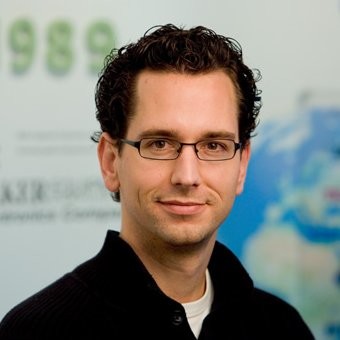 By Sara Isenberg
Founder, Publisher, Editor-in-Chief, Santa Cruz Tech Beat
January 22, 2019 — Santa Cruz, CA
(Photo above: Beau Wilder is the Vice President of Innovation Waves and New Products at Plantronics, Source: LinkedIn)
Plantronics reports that speech distraction is the top complaint of open offices everywhere. They've recently made a solution available to their enterprise customers.
Plantronics continues to be one of the few everlasting "large tech companies" in Santa Cruz. Located in Harvey West Park, I used to drive by the company twice a day for the dozen or so years that I worked at Santa Cruz Operation, also located in Harvey West Park in the '90's, and also a "large tech company" in Santa Cruz. SCO is no longer in business. It wasn't until years later that I had the opportunity to step inside of the Plantronics building. At the time of my first visit, Plantronics had their "wall of ears" in the lobby, and beautifully designed interiors, but clearly there was more to come, as you can find out in this Q&A article with Beau Wilder, VP of Innovation Waves and New Products at Plantronics.
Santa Cruz Tech Beat: Terry Gross of NPR's Fresh Air says "Tell me about yourself" is the only icebreaker you'll ever need. So, tell me about yourself.
Beau Wilder (BW): I moved to Santa Cruz to go to college at UCSC in order to fulfill my childhood dream of playing college basketball, which might sound funny to a lot of people because most kids that went to UCSC didn't even know we had a NCAA basketball team! But that didn't matter to me as long as I could play the game I loved for 4 more years. While in school, I realized that I was going to need a competitive outlet after my college playing days were over, which is when I started to get very interested in studying what separated successful businesses from run-of-the-mill ones. I came to learn that winning companies were the ones that took the time and effort to understand their customers at such a deep level that they could empathize with their struggles and anticipate their needs, even when their customers didn't know how to articulate what they wanted. So I decided to make studying humans the focus of my college years and graduated with a double major in anthropology and history, and a minor in politics. Then my first job out of school was in finance so I could learn the universal language of business.
SCTB: Your career at Plantronics has spanned all the way from new grad to Vice President! That's unusual these days. What kept you motivated and inspired to stay at Plantronics rather than to explore other opportunities?

BW: I've worked at Plantronics for over 18 years now and it is has been an absolutely amazing journey. There are really two main things that have kept me at Plantronics this long: the people and the continual challenges. It has been such a pleasure to work with such talented colleagues and I continue to learn from them every day. Seeing the dedication and pride that they bring to work makes me want to keep pushing to be my best and expand my capabilities.  I also made a commitment to myself very early that I would continually seek out new challenges in my career so I could be a life-long learner, so I've always sought ways to stretch beyond my comfort zone. Thankfully, Plantronics has given me a new career challenge every two years, so while I've been at the same company for a long time it feels like I'm always on a learning curve which has made the years fly by!
SCTB: How did you transition over the years from a strictly non-tech role in finance to a product role?
BW: The simple answer is, I pursued it. While I was partnering with our major business units as their finance controller, helping them optimize their profitability, I challenged myself to deeply learn the markets we competed in and researched the daily struggles of our customers. I studied the strengths and weaknesses of our competition and started proposing strategic moves that could help us win in the market place. When a position opened up on the product team I had already demonstrated I could add value to the team so it wasn't as big a risk for the company to take as it might seem from the outside.
SCTB: You're now VP/GM of Habitat Soundscaping, one of PLT's newest and most unique products. What is Habitat Soundscaping? Is there a story behind coming up with this product?
BW: Habitat Soundscaping was founded because Plantronics is obsessive about living the office of the future before our customers do. We do this to intimately understand the challenges our customers will face on their own workplace transformation journeys and then we take those learning to build solutions to help optimize our customers' experiences at work. About 5 years ago, we identified a new emerging trend from our enterprise customers about a desire to move away from a traditional office design, with cubicles and private offices, to an open office design, with the goal of saving on real estate costs and improving collaboration amongst their employees. We heard this interest so pervasively from our customers that Plantronics jumped feet first into this new way of working and transformed our Santa Cruz HQs into an open office design so we could learn. We partnered with world class architects to build a facility that set our associates up for success, but wound up building visually stunning work spaces that our associates had difficulty actually getting work done in due to the noise pollution that came with the open design. While we love headsets at Plantronics and view them as an essential tool to help with this problem, we also desired a space where our associates didn't feel like they had to escape into a headset all day just to be able to focus. After exhausting all the options available on the open market to potentially address this environmental speech distraction problem, we decided to apply our nearly 60 years of acoustics expertise to solve our own problem. We dug into the world of academia and discovered foundational pieces of research that indicated that immersing humans in sights and sounds of nature optimizes our cognitive performance while also enhancing our overall health and well-being. We leapt off of this foundational research and built an intelligent distributed audio and visual system for the built environment that delivers multi-sensory biophilic soundscapes into the office that are expertly tuned to disguise human speech. The system identifies when distracting speech is occurring and adjusts the nature inspired soundscapes in real time to ensure focus work can co-exist harmoniously with collaboration in the same space. We've been able to demonstrate that we can shrink the radius of distraction in an open office up to 74%, resulting in our associates reporting significant increases in productivity and creativity. While Habitat Soundscaping was born out of a need to solve our own problem first, we know that speech distraction is the top complaint of open offices everywhere, so we've recently made the solution available to our enterprise customers as well.
SCTB: Can you talk about any local installations? Creative uses for Habitat Soundscaping?
BW: We have multiple installations with customers in the Bay Area, but we don't have permission to use their name publicly. Our early adopters span across industries from technology, to healthcare, to finance, and beyond. If you are interested in experiencing Habitat Soundscaping first hand, there is no better place than Plantronics HQs in Santa Cruz!
SCTB: What's your favorite "can't live without it" PLT product? 
BW: Habitat Soundscaping of course! But when I'm away from the office I don't ever travel without my Voyager 8200 UC. It looks, feels and sounds amazing and it transforms any airplane flight into your own little acoustic bubble.
SCTB: I own three Plantronics headsets but not that one probably because I'm not an audiophile. My favorite is the one I wear when I work out at the gym and when I commute by foot to NextSpace. Beau, thanks for your time!
###
If you wish to republish this article, please follow our Terms of Use.
###
Tagged Plantronics