Featured
NIH grant funds development of a wayfinding app for the blind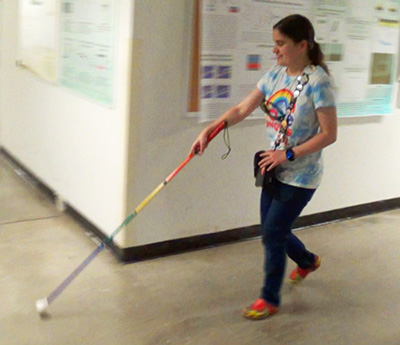 By James McGirk
UC Santa Cruz
October 25, 2018 — Santa Cruz, CA
(Photo above: A blind participant tests a path backtracking app developed at UC Santa Cruz. Courtesy of Roberto Manduchi)
Engineer Roberto Manduchi develops assistive technologies for people with disabilities
"Have you ever been to the Baskin Engineering building basement? I took some friends of mine who are blind down there and tried to get them get lost," says Roberto Manduchi, professor of computer science and engineering in the Baskin School of Engineering at UC Santa Cruz.
Finding their way out of the subterranean maze of humming machines and convoluted corridors beneath the engineering building would ordinarily be a nightmare for many people with visual impairment, but Manduchi's 12 participants weren't lost for long. They were each equipped with an app-based system that used an iPhone's inertial sensors to guide them back.
"Tracking your way back is very important when you're blind," Manduchi said. "Imagine you were blind and wanted to see my office, and someone met you at the entrance and took you there, but wasn't around to take you back. This system would have tracked you from point A to point B and could help guide you back again."  
The backtracking system was developed by a graduate student in Manduchi's Computer Vision Lab, Germán Flores, who earned his Ph.D. in 2017 and is currently at IBM's Almaden Research Center. A new $1.1 million grant from the National Institutes of Health is now funding Manduchi's ongoing work to develop the system into an iPhone app that will support both path backtracking and map-based wayfinding.
Manduchi explained that navigation apps like Waze or Google Maps, which use the Global Positioning System (GPS), don't work well indoors. Indoor environments also tend to be much more crowded, making navigation more complicated than it is outdoors (imagine the layout of a crowded airport terminal or shopping mall).
Continue reading article here: https://news.ucsc.edu/2018/10/wayfinding-app.html
###