Companies
Future Motion (Onewheel) Moves into New Headquarters, Adds 60K Square Feet of Room to Grow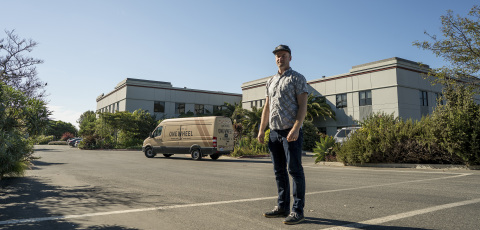 (Contributed)
October 25, 2018 — Santa Cruz, CA
(Photo above: Kyle Doerksen, Future Motion CEO, stands in front of the company's new, state-of-the-art, 60,000 square foot global headquarters and development center in Santa Cruz. Source: Business Wire).
The company's new space on the westside of Santa Cruz includes additional development labs and expanded facilities for design, engineering, sales and customer support teams.
Future Motion has ambitious hiring plans for both technical and non-technical roles.
Future Motion, maker of the popular Onewheel line of products, has moved into a new, state-of-the-art, 60,000 square foot global headquarters and development center in Santa Cruz, California as the global trend in personal electric mobility advances from niche to mainstream.
The location, on Santa Cruz's far Westside, includes advanced engineering labs for developing and testing future products.
"We've dramatically expanded our electrical, mechanical and systems development labs as well as given our design, customer support, sales and administrative teams significantly more room to operate and grow," says Future Motion CEO Kyle Doerksen. "After starting in my garage, it is surreal to move into a beautiful 60,000 square foot facility."
Future Motion designs not only the Onewheel product line, but also all the subsystems that power it, including custom brushless motors, power electronics and battery modules. The company has been awarded over 35 patents for its innovations since its founding in 2014.
And they're not done yet—Future Motion has ambitious hiring plans for both technical and non-technical roles. "We are hiring engineers, sales, marketing, support and administrative people who are excited about building the future and living by the beach. We're extremely proud of the creative and talented team we've assembled," added Doerksen.
"It wasn't long ago that our entire company worked out of a single, small office. It's exciting to create an environment for our team to build the future of movement and transportation while having an ocean view," says Chief Evangelist Jack Mudd.
Onewheel, which provides a riding experience similar to surfing but on paved roads or unpaved trails, is perfectly situated in Santa Cruz where the mountains meet the sea.
The move is a sign of Santa Cruz's entrepreneurial revitalization as industrial and commercial vacancies are at an all-time low. "Both the industrial and commercial vacancy rates in Santa Cruz county are the lowest I've seen in my over 30 years in the area," says Colliers Broker Don Reimann who helped broker the transaction along with Jeffry Nochimson of Colliers. "Clearly people are seeing Santa Cruz not just as a great place to live or visit, but also to build careers and companies. We now need to find ways to increase the local building base to accommodate this growth."
Future Motion has been building their business in Westside Santa Cruz since 2015. "This is really the time when electric transportation decentralizes and takes over," said Doerksen. "Everywhere you go around the world, you see electric vehicles shaping the streetscape of cities. Whether it's 20 pounds and in the bike lane or a full-size electric car, the revolution is in full swing and we're ready to continue to grow and support this evolving industry from our home base in Santa Cruz."
Future Motion is committed to American manufacturing and Onewheel+ XR is assembled at the company's factory in California.
Onewheel+ XR with a 12-18 mile range is available at www.onewheel.com and at select dealers across the U.S. and worldwide for $1,799, and Onewheel+ with a 5-7 mile range is available for $1,399. Job opportunities with the Future Motion team are listed on the company's website.
About Future Motion, Inc
Future Motion bridges the gap between recreation and transportation by delivering vehicles that feature both elegant form and remarkable function. The company's Onewheel+ and Onewheel+ XR electric boards have dynamic control systems, patented motors and advanced technology designed to mimic the exhilarating feeling of snowboarding in fresh powder. Created by a lifelong snowboarder who wanted a more enjoyable way to commute to work, Onewheel provide a smooth, thrilling ride, whether you take them out on the beach or across the city. Future Motion's boards are manufactured in the U.S. and protected by over 26 issued patents worldwide.
###
Tagged Future Motion, Onewheel