Featured
NSF funds UCSC development of multifocus structured illumination microscope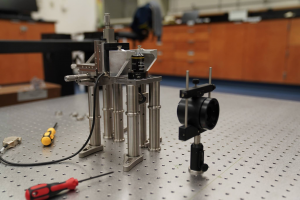 By Erin Foley and Karyn Skemp
Baskin School of Engineering
October 16, 2018 — Santa Cruz, CA
The National Science Foundation has awarded UC Santa Cruz $700,000 for the development of a multifocus structured illumination microscope. Electrical and Computer Engineering Assistant Professor Sara Abrahamsson will lead the project.
The multifocus structured illumination microscope will combine two existing imaging techniques: structured illumination microscopy (SIM) and multifocus microscopy (MFM). SIM is a super-resolution imaging technique that allows researchers to see internal structures of cells at unprecedented levels of detail. MFM uses diffractive Fourier optics to obtain a complete, three-dimensional view of an entire live sample in a single snapshot (3D images have traditionally been obtained by taking a series of 2D image slices and reconstructing them to create a 3D image. This method is often too slow for live imaging.)
Abrahamsson herself was responsible for developing the ground-breaking MFM technique. By combining SIM and MFM, she is now making it possible to get very high-resolution 3D images quickly enough to study the movement and behavior of living cells.
The ability to employ 3D super-resolution imaging in a living biological specimen in real-time is a challenging, ongoing problem in the field of biomicroscopy. With this new technology, it will be possible to see things that were previously unseeable without destroying the sample. "We're going to be able to look at things no one has been able to look at before," says Abrahamsson.
Abrahamsson's team of researchers will construct the microscope in the UC Santa Cruz Life Sciences Microscopy Facility. Her co-PIs from UCSC's department of Molecular, Cell, and Developmental Biology—Grant Hartzog, Bill Sullivan, and Needhi Bhalla—will use the instrument to study the 3D dynamics of chromatin, the complex of DNA and associated proteins in the nuclei of cells.
"This unique instrument will allow us to address questions that were previously beyond our reach," says Dr. Hartzog. "By adapting this instrument and solving problems associated with the distinct challenges of working in yeast, nematodes and fruitflies, we will help develop the capabilities of this microscope and ensure that it will be a resource for colleagues working on other problems that require high-resolution 3D microscopy."
Beyond the initial applications planned for the instrument, Abrahamsson says there are potentially limitless ways to use the developing technology when collaborators openly discuss their research questions with her. Together, she says they can design optical systems tailored to specific research needs.
"The unique thing happening here at UC Santa Cruz is the amazing people I am working with on this and other collaborations and, in particular, how easy it is to collaborate when we can directly employ new imaging technology in our own UCSC imaging facility," says Abrahamsson.
Abrahamsson attributes her successful grant submission in part to the mentoring she received from her collaborators, as well as to the Life Sciences Microscopy Facility and what she calls the facility's "superb manager," Benjamin Abrams. "It's great that I can concentrate on inventing and building new optical systems while others, with years of experience, can manage them and ensure that they stay functional and are easily accessible to users."
The microscopy facility is jointly sponsored and used by the Baskin School of Engineering and the Physical and Biological Sciences division. Abrahamsson says she hopes to help make UC Santa Cruz a power house of optical systems development and cutting edge applied microscopy.
###
Originally published here: https://www.soe.ucsc.edu/news/nsf-funds-uc-santa-cruz-development-multifocus-structured-illumination-microscope
###