Events
Here's the wrap: UCSC's Summer Entrepreneurship Academy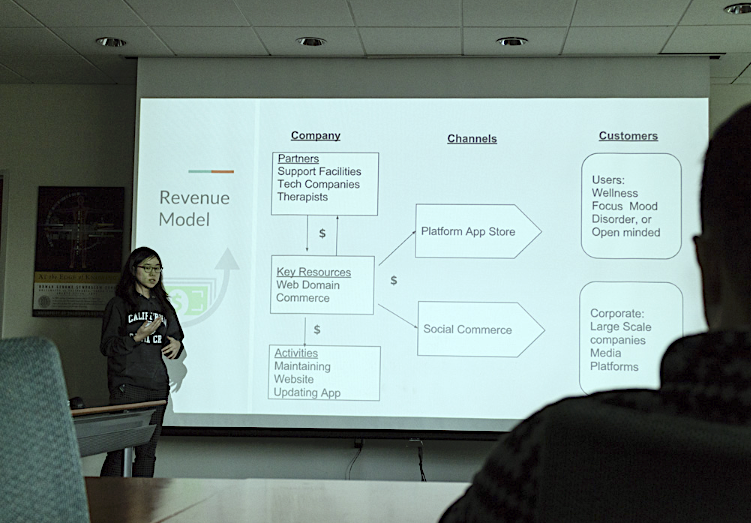 By Jennifer Gallacher
UCSC Summer Session Marketing and Communications Coordinator
September 13, 2017 — Santa Cruz, CA
(Photo above: Tiffany Lee, a summer participant in the Summer Entrepreneurship Academy — aka SEA — presents her start-up business idea, Moody, to her fellow SEA classmates. Contributed.)
This summer, students from around the globe spent 8 weeks developing and refining their business models. From apps to register your mood or catch a ride on campus, to a wave-sensing company, UCSC's Summer Entrepreneurship Academy (SEA) got things started.
Based on the Lean Launchpad and NSF I-Corps model, students built teams and were paired with a mentor with start-up experience to help them discover and develop their proposed businesses. Forced out of their heads and onto the streets, models shifted after teams talked to potential customers and put real numbers behind potential revenues vs. expenses.
The class culminated with teams giving their final executive business-plan presentations and story-making videos. When the dust settled, numerous teams decided to continue down the startup path. When the early adopters start wearing Juice and "Confer"ing, you'll know where they started.
Summer Entrepreneurship Academy Projects included:
AiHS – Application of artificial intelligence in home security use.
Confer – A social learning platform, Confer is a place for people to exchange ideas and resources to support passion-driven education. It allows people to explore, share, and discuss the many facets of knowledge that the internet has to offer. Users benefit from strongly organized and community-curated collections of videos, images, and articles. Confer aims to encourage mainstream learning by breaking down the negative stigma behind it.
Favor – Online application allows invitees to a neighborhood potluck to specify the food they're bringing when they accept the invitations   .
Juice – Ethnic African (specifically Eritrean) clothing line, intended especially for community building and cultural education and celebration among African-Americans.
Let's Get Social – Virtual-reality platform tests a user's calling and conviction for social causes through the user's creation of content in the platform.
Moody – A mobile application, Moody allows users to register their moods and then responds to negative moods, such as depression, with positive-reinforcing and countering thought exercises and advice to help alleviate negativity.
Planner – The Planner application combines planning and calendaring software with a virtual chat room of advisers to help users plan and meet goals. It gets people who have the same plans or goals together to communicate ideas and motivate one another. The Planner team assigns agents to host activities, such as sharing educational knowledge related to specific plans, prompts users to share their progress on plans, and, for a fee, helps users improve plans.
Santa Cruz Wave Works (SCWW) – A wave characterization, water-signature, and wave-sensing company, SCWW provides real-time data solutions to surfers (and other ocean users), creating value by acquiring and aggregating wave data into a simplified user interface. SCWW provides surfers with macro, micro, and sub-micro climate data that eliminates the need to monitor from the beach for optimal surfing conditions. SCWW sensing systems enable real-time local immersive data visualization, condition reports, and text notifications based on data gathered using sub-surface buoys.
Sea+Tech – Customer relationship plus inventory management (CRIM) software improves small-scale, sustainable-seafood, supply-chain businesses from harvest to customer.
Seeking Symbiosis – At Seeking Symbiosis we design stylish prints for clothing and accessories of species interactions found in nature, linking them to real science research. Our goal is to improve public awareness around environmental issues by merging art and science into attractive designs for stylish clothing that appeals to a wide customer base. In this way, we hope to build science literacy and increase public support for both science and art.
SlugRide – A ride-sharing application for the UCSC community, SlugRide gets commuters to and from campus efficiently by carpooling.
SlugSense – A self-sustaining network of sensors for wireless monitoring and autonomous irrigation.
WaterBug – Water distribution system monitor provides real-time data to save water and energy.
Anyone can take classes at UCSC over the summer.
Interested in joining the 2018 UCSC Summer Entrepreneurship Academy? Join the Center for Innovation and Entrepreneurial Development mailing list, and we'll let you know when Summer Session registration and enrollment opens. Anyone can take classes at UCSC over the summer.
###
If you wish to republish this article, please follow our Terms of Use.
###
Tagged CIED, UC Santa Cruz