Companies
Inboard Introduces World's Most Advanced Electric Scooter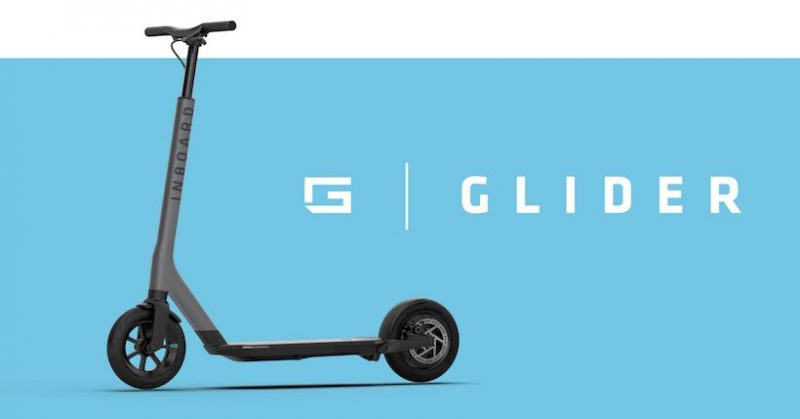 (Contributed)
September 20, 2018 — Santa Cruz, CA
Inboard Technology, the creator of the best-selling M1 Electric Skateboard, today announced its newest product, the Glider Electric Scooter. Inboard recently raised $8 million in Series A funding to develop pioneering urban transportation solutions.
The Glider will be the most technologically advanced electric scooter on the market, featuring regenerative braking, a swappable battery, oversized tires, and running LED lights. The Glider's wide deck and low ride height make it easy to use, and the foldable design make it convenient to carry and store. Inboard's mobile app supplies wireless firmware updates and ride data, connectivity and a way to discover the best commuting routes.
"We believe that small electric vehicles are one of the most viable solutions in the future of short-range urban transportation," said Inboard co-founder and CEO, Ryan Evans. "Our goal with the Glider was to create the safest and most innovative scooter on the market. Owning a scooter means you don't have to worry about finding a rental, and it's a truly fun way to flow through an urban environment."
Inboard is offering a versatile scooter as a sustainable solution for urban congestion. Recently, Inboard partnered with commuter services company Boxcar and the city of Madison, N.J. on a pilot program to provide demo scooters for commuters that live within 2.5 miles of local train stations. Inboard is also in talks with businesses and organizations to provide scooters for cities and campuses, offering a unique and environmentally-friendly way for individuals to get around.
Inboard's Glider Scooter will launch in February of 2019, and presale orders will be available later this fall. For more information on the Glider, sign up for Inboard's newsletter here.
About Inboard Technology
Based in Santa Cruz, CA, with a satellite office in Santa Monica, CA, Inboard Technology's mission is to create a new breed of high-performance, lightweight personal electric rideables for urban transportation. Since its launch in 2016, Inboard has sold thousands of M1 Electric Skateboards, boasting best-in-class technology and performance. The company plans to develop more personal transportation devices in the near future and will continue to challenge how people move through urban environments. For more information, visit www.inboardtechnology.com.
###
Tagged Inboard Technology