Companies
Will the cities of the future have an electric skateboard lane?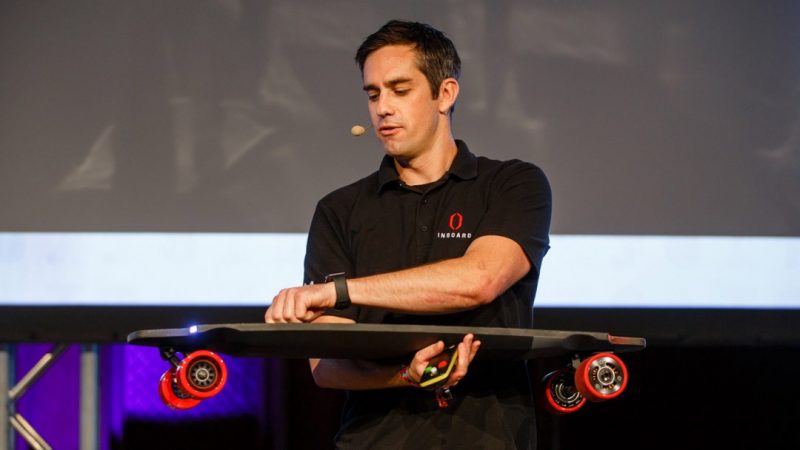 Source: TOA Berlin and YouTube
June 7, 2017 — Santa Cruz, CA (and Berlin 2016)
(Photo above: Ryan Evans, the CEO and co-founder of Inboard Technology, speaking at TOA 2016. Source: TOA Berlin)
Watch: "Rideable Technology and the Cities of the Future" with Ryan Evans, CEO, Inboard Technology
Ryan Evans' Inboard wants a future where you'll be able to go wherever you want, whenever you want, safely, efficiently, and affordably
"A powered skateboard solves major problems for cities: parking, pollution, and over-crowded public transportation"
What should our dream vision of transport in 5–10 years time be?
Lately, no conversation about the future of technology seems to be complete without talk of the world's shifting transportation landscape: as the likes of Uber, Google and Tesla make huge progress in the autonomous vehicle sphere, and speculation about Apple's seemingly forever-in-development electric car deepens, there is no doubt that how we think about getting from A to B is soon going to change in ways we are only now beginning to imagine.
One person who has let his visions of the future run wild is Ryan Evans, the CEO and co-founder of the California-based Inboard Technology.
He spoke last year at TOA 2016 and laid out his impression vision of transport's future — a shift he thinks could be as big as the leap from horse and carriage to the the automobile.
Continue reading article here.
###
Tagged Inboard Technology