Events
UC Santa Cruz helps address massive data demands from Large Hadron Collider as part of $25 million NSF project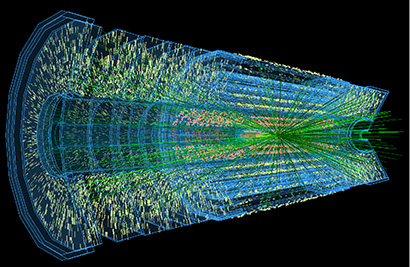 By Erin Foley
UC Santa Cruz
September 6, 2018 — Santa Cruz, CA
(Image above: A data visualization from a simulation of collision between two protons that will occur at the High-Luminosity Large Hadron Collider (HL-LHC). On average, up to 200 collisions will be visible in the collider's detectors at the same time. Shown here is a design for the Inner Tracker of the ATLAS detector, one of the hardware upgrades planned for the HL-LHC. Credit: ATLAS Experiment © 2018 CERN)
Computer scientist Carlos Maltzahn will work with Princeton University on an NSF-funded project to establish the Institute for Research and Innovation in Software for High Energy Physics
Carlos Maltzahn, adjunct professor of computer science and engineering in the Baskin School of Engineering, will collaborate on a $25 million NSF-funded project led by Princeton University to establish the Institute for Research and Innovation in Software for High Energy Physics (IRIS-HEP).
IRIS-HEP will address the unprecedented amount of data that will come from the High-Luminosity Large Hadron Collider (HL-LHC), the world's most powerful particle accelerator. When the HL-LHC reaches full capability in 2026, it will produce more than 1 billion particle collisions every second, from which only a small number will reveal new discoveries. The collider's increased luminosity will necessitate an increase in data processing and storage, including tools to capture, identify, and record relevant events and enable scientists to efficiently analyze the results.
"To fully explore this data, we need much more powerful software tools and algorithms. We also need to maximally exploit the evolving high-performance computing landscape and new tools like machine learning, in which computers study existing data sets to learn rules that they can apply to new data and new situations," said Princeton University computational physicist and IRIS-HEP principal investigator Peter Elmer.
Continue reading article here: https://news.ucsc.edu/2018/09/iris-hep-grant.html
###