Companies
Intern story: Technology that inspires optimism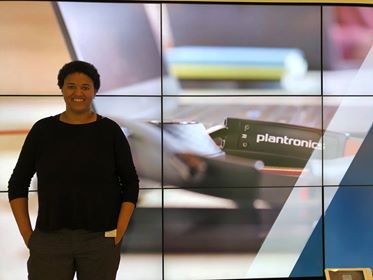 By Tamra Owens
Plantronics HR Solutions Intern
Special to Santa Cruz Tech Beat
August 21, 2018 — Santa Cruz, CA
(Photo above: Tamra Owens is an HR Solutions Intern at Plantronics. Contributed.)
Graduating college is one of the proudest moments. After four dedicated years of study I was finally closing the undergraduate chapter of my life. The question plaguing many recent graduates is "What if I don't find a job?". Even after earning a degree in Business and accounting the occasional anxiety about what the future might hold loomed over me. My biggest concern was if I would find happiness.
I have always been told that if you do something you love you will never work a day in your life. I love bettering my community and myself, so the challenge was to find a company that caters to those things all while utilizing my business and information management skills. I'm elated to report that after only 3 months after college I have found just the place, and even better, it's in Santa Cruz.
Plantronics helps the local community
In the main hallway of Plantronics' Cooperate Headquarters in Santa Cruz, there's a mural dedicated to recognize the efforts employees of Plantronics have made in making the world a better place. From donating hundreds of thousands of meals to people in need, to acknowledging the partnerships we have made with non-profits, this mural is more than just a pat on the back for the company, but a reminder to all employees that we have a commitment to leaving this world a little better than we found it. I have had the pleasure of witnessing Plantronics hold up its promise to serve the community. Every month there is always a new cause we donate our time and money to. Last month, my intern cohort was able to attend a tour of the 2nd Harvest Food Bank in Watsonville where we learned about their efforts in fighting food insecurity. At the end of the visit, we helped prepare boxes of food for families in need. The opportunity to better my community was a refreshing surprise in a world where large companies are often ambivalent about their nearby communities.
Free and tedious labor? Not.
When most people think of an internship, free and tedious labor comes to mind. This norm has left the job market more difficult for people who don't have a surplus of money to support themselves in hopes of being compensated sometime in the future. Plantronics compensates their interns which makes the program accessible to recent graduates who don't have trust funds lying around.
My summer internship project
In my role as a Human Resource Solutions Intern at Plantronics, I facilitated the creation of dashboard that would help recruiters track their workload, validate reports from raw data that would be sent to top leaders in the company, sat in on meetings to get a view on the impact of HR's decisions had on the rest of the company, and supported the HR team in daily operations. Within the first few weeks of the internship I was already assigned tasks managing sensitive data and learning new tools like Microsoft's Power BI. At first, I was terrified that the HR team trusted someone as young and new with such crucial projects, but my HR team at Plantronics constantly mentored and believed in me. The type of confidence working at Plantronics has given me is unreal, and I truly believe everyone is here to build me into the best professional I could possibly be.
What's next? Another opportunity at Plantronics!
As of Mid-September, my tenure as an intern is coming to a close. However, I won't be leaving Plantronics just yet! Over the next month I will be transitioning out of my role as an HR Solutions intern and into the Sales Compensation department on track to be an official Associate at Plantronics (woo!). I'm feeling a bit of the "what if I don't find happiness" anxiety again, but as I reflect on my time at Plantronics thus far, I am optimistic that I have nothing to worry about at all 🙂
###
If you wish to republish this article, please follow our Terms of Use.
###
Tagged Plantronics