Companies
Intern story: Finding a home in R&D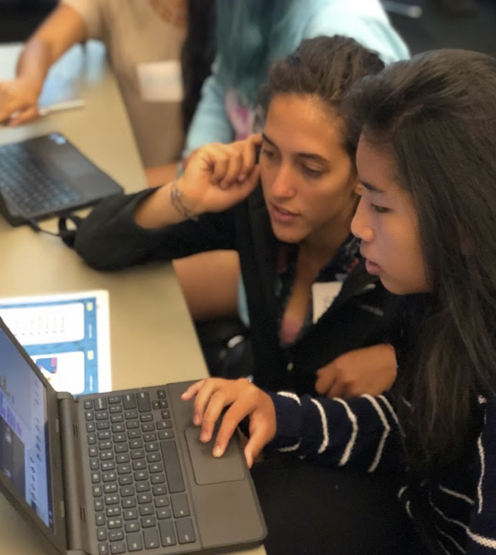 By Breanna.Baltaxe-Admony
Plantronics Engineering Intern
Special to Santa Cruz Tech Beat
August 21, 2018 — Santa Cruz, CA
(Photo above: Breanna.Baltaxe-Admony, left, helps to debug a program at a Girls in Coding event. Contributed.)
At home in R&D
Interning at Plantronics has been my first real dive into industry. Last Spring I graduated from the University of California Santa Cruz with a bachelor's degree in Computer Engineering. During my time as an undergraduate, I was lucky to participate in undergraduate research. My specific research interest is in designing easy to use systems for rehabilitation. I've worked a bit in the audio space, but never in making market-ready products. Coming from a research background, I wasn't quite sure how I would fit in at a public company. I was pleasantly surprised to find a home in R&D.
A kick-ass manager
Over the Summer, I have been working at Plantronics to develop Voice Assistants. Although not medically oriented, I was excited to work on making an intuitive system to help users with some of their everyday needs. As the project is still in early stages, significant preliminary work needed to be done – exploring the space, creating prototypes, and testing to figure out if this was even something worth continuing with. Naturally, I resorted to developing research questions focused on the design of Voice User Interfaces, and administered some user studies. These studies then informed the creation of prototypes. All of this was not the work I was expecting to get to do as just an intern. I'm thankful to have gotten a kick-ass manager who saw how I could apply my background to inform the creation of a useable product. She took my previous experience seriously and used it to help me challenge myself in new ways. Having a meaningful project that could directly influence upcoming products made me work harder and learn so much more.
Navigating corporate life
Relying on my background entirely wasn't enough to create a successful product. Many individuals from many departments helped along the way. My fellow interns helped me decide sending smiley faces through email probably wasn't okay. The lunchtime soccer league helped me blow off steam after hours of coding. My mentor at Plantronics helped me navigate corporate life and taught me about the process of engineering a product starting from concept to end of life.
Unexpected benefits
Something unexpected about my time at Plantronics has been getting to participate in events that benefit the Santa Cruz community. It has been special for me to work at a company that values giving back. In August, all of the interns volunteered at the Second Harvest Food Bank to pack groceries for hungry families across Santa Cruz County. After that I got to take part in organizing and teaching at the first Girls in Coding event at Plantronics. Thirty-five seventh and eighth grade girls from across the county joined us for a full day of hands-on instruction. The girls wrote their first lines of code and experimented with Scratch, an educational programming language developed by MIT. Although most arrived tired and timid at 8am, by the end of the day they were smiling and stoked as they shared their goofy with one another. It was memorable to share my love for engineering with these girls and show them that anything they could think to create is right at their fingertips
I had a lot of fun with Voice User Interfaces and hope to continue working in this space in the future.
###
If you wish to republish this article, please follow our Terms of Use.
###
Tagged Plantronics