Companies
More "Voices of the Valley" from WGCIT in Salinas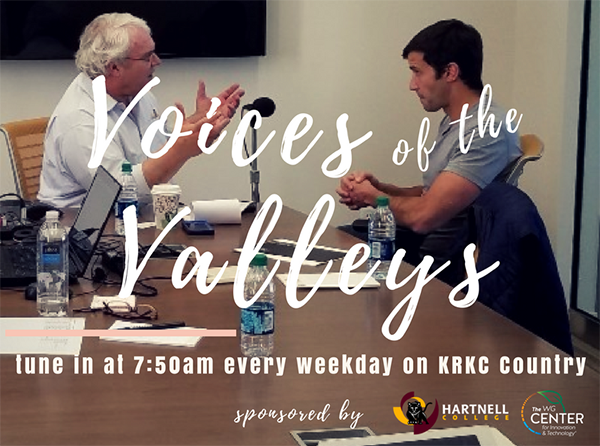 By Sara Isenberg
Founder, Publisher, Editor-in-Chief, Santa Cruz Tech Beat
July 19, 2018 — Salinas, CA
A few months ago (5/31/18), we published Western Growers Center for Innovation & Technology launches 'Voices of the Valleys' to introduce readers to a new radio show on KRKC News that Western Growers Center for Innovation & Technology (WGCIT) launched. In the show, WGCIT Lead Dennis Donohue interviews leaders in agtech and innovation. Each episode explores what's challenging and new in agricultural innovation.
Here are two more episodes.
Episode 9:
Colin Brown is Founding Director of TracMap, an agtech company that offers a complete precision guidance system for ground applications to improve how crops receive pesticides. He will touch on how his company's Spray and Harvest Management System can help growers reduce costs and improve yields across a wide range of specialty crops. With their technology, growers easily select which blocks or rows need pesticides from a computer, which sends the data to the tractor operator and then tracks if any portion of the blocks or rows were missed during pesticide application. TracMap says their system works for 100% of vehicles, 100% of staff, 100% of the time.
Eposode 10:
Brian Curtis is CEO and founder of Concentric Power Inc. Concentric Power has developed a pre-engineered, prefabricated, modular power plant design that can be installed at food processing facilities for fresh produce. Most recently, this agtech startups built a cogeneration plant for Taylor Farms that helps the ag giant generate onsite electric power for low temperature refrigeration, producing an annual energy offset of 64 percent. During the podcast, Brian speaks about his entrepreneurship journey into agriculture and explains the steps to how and why he jumped into cogeneration.
###
Tagged agtech, Salinas, Western Growers