Companies
SVG Partners unveils plans for the THRIVE Business Park in Salinas and expanded THRIVE-X University Challenge and Accelerator Program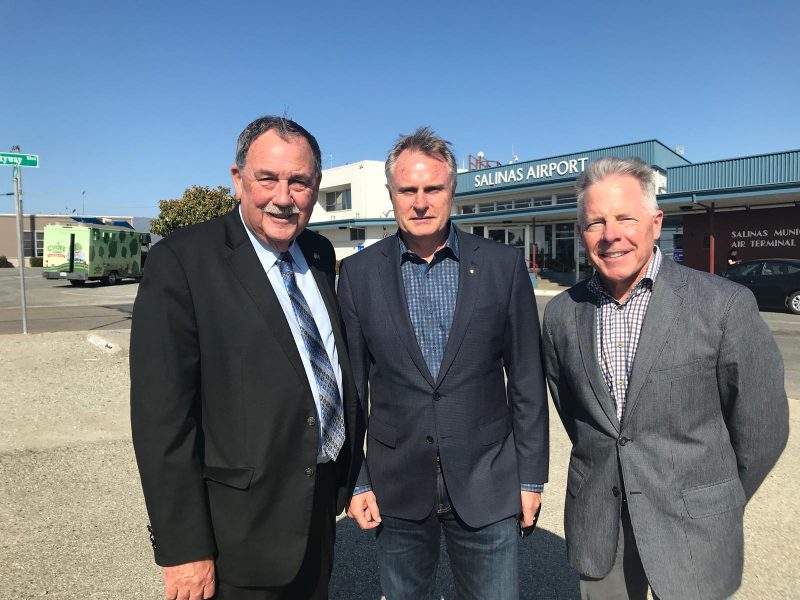 (Contributed)
June 27, 2018 — Salinas, CA
(Photo above: Salinas Mayor Joe Gunter, SVG Partners CEO John Hartnett and Ralph Borelli of Borelli Investment Company announce plans to develop the new THRIVE Business Park adjacent to Salinas' airport. Contributed.)
SVG Partners announced this morning during its annual Demo Day held at the Forbes AgTech Summit the details of its expanded THRIVE 2018-2019 program and the unveiling of the new THRIVE Business Park adjacent to Salinas' airport. Five years after launching in Salinas, THRIVE continues to expand its platform, including the launch and growth of the THRIVE-X University challenge earlier this year, new investments, as well as the growth of its corporate open innovation program with partners Wilbur-Ellis, Trimble, Taylor Farms, Wells Fargo, Land O'Lakes, Verizon and Coca-Cola.
Catalysing Growth in the Salinas Region
Faced with a scarcity of vacant R&D and warehouse/distribution space in the area, SVG announced today its partnership with the City of Salinas, Borelli Investment Company, SWENSON developers and general contractors, to develop the Thrive Business Park — a 206,000 sq. ft. flex R&D and warehouse/distribution center near to the city's Municipal Airport.
Through its THRIVE accelerator, university, and corporate innovation programs, SVG Partners has established deep relationships within the agricultural business community as well as with the City of Salinas and is committed to promoting Thrive Business Park as an ideal solution for AgTech startups and other businesses looking for this hard-to-find space in the Salinas Valley. Looking forward, the project will be a welcome catalyst to bring additional economic development opportunity opportunities and an estimated 1,000 jobs — 100 during construction alone — to the City of Salinas.
Since the THRIVE accelerator's inception, SVG Partners has invested in 20 companies, which have cumulatively raised $100 million in seed and Series A funding with a total valuation of half a billion dollars. Many of these companies, like Trace Genomics, MagGrow, and Arable now reside in Western Growers Center for Innovation & Technology in downtown Salinas.
John Hartnett, Founder & CEO of THRIVE said "the investment in many of our THRIVE companies has already catalyzed economic development in the Salinas region as they locate here [in Salinas] and continue to expand and employ in the region."
University Partnerships: THRIVE-X Challenge
Also during this morning's Demo Day, THRIVE welcomed two university teams from Santa Clara University and Cal Poly San Luis Obispo pitch as part of its THRIVE-X challenge. After deliberations from the judges in the audience, team Ascensor was awarded the first place $10,000 cash prize for its modular hydroponic solution with better ergonomics for vertical farming. The second-place team, HiveSpy, was awarded a $5,000 prize for its solution using sensor technology to identify when and which hives are ready to harvest. The THRIVE-X competition was launched in April, inviting teams formed at the two universities to develop solutions addressing labor challenges and attracting sponsors including Cisco, the City of Salinas, and Taylor Farms. Next year, THRIVE will expand the THRIVE-X Challenge to include additional universities.
THRIVE V

On the heels of a hugely successful fourth accelerator program, opened applications for its fifth accelerator program online today. Unlike previous years, the THRIVE V accelerator program will take place over five months instead of 10 weeks.
Mareese Keane, THRIVE platform director said, "at the core of our accelerator is the connections we make between our startups and our partners and farmers and extending the program [over five months] gives our startups more time to develop their value propositions and prove their technologies during field trials with potential future customers." THRIVE also announced open registration for its annual Innovation Forum which will be held next year at Santa Clara University on March 27.
As in previous years, THRIVE will announce the winner of its Innovation Award on the mainstage at the Forbes AgTech tomorrow at 11:30 am.
For more information about THRIVE AgTech go to http://thriveagtech.com/
ABOUT THE SVG PARTNERS-THRIVE VENTURE & INNOVATION PLATFORM
The THRIVE Venture & Innovation Platform works with leading corporations, startups, universities, and growers to solve the biggest challenges facing the food and agriculture industries. Yearly, THRIVE hosts highly selective programs for seed and growth stage AgTech and FoodTech startups, providing investment, top-tier mentorship, trials, and go to market support. In addition, THRIVE provides corporate open innovation and advisory services, working with leading corporations like Coca Cola, Ernst & Young, Trimble, Wilbur-Ellis, Taylor Farms, Land O'Lakes, Wells Fargo and Verizon. THRIVE was launched in 2014 by Silicon Valley Global Partners (SVG Partners), a venture, innovation and advisory firm based in Silicon Valley, CA. www.svgpartners.com www.thriveagtech.com
###
Tagged agtech, Forbes, Salinas, SVG Partners, Thrive Accelerator