Companies
THRIVE bridges heartland of California agriculture with worldwide technology providers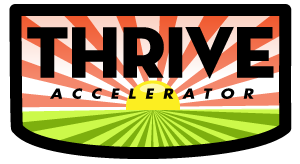 By Emily Breslin
THRIVE Marketing Manager
Special to Santa Cruz Tech Beat
August 17, 2017 — Salinas and Los Gatos, CA
The THRIVE Venture & Innovation Platform was launched out of the Salinas and Silicon Valley to bridge the heartland of California agriculture with the technology hub. Since then, THRIVE has attracted over 1,000 startups, run three successful accelerator programs with its fourth just underway in early next year, and established a corporate open innovation program designed to build bridges between the world's leading corporations and innovators.
Emily Breslin, Marketing Manager for THRIVE, spoke to John Hartnett, its CEO and Founder about the firm's key milestones, observations in the market, and what to expect from THRIVE next.
EB: Tell us about where THRIVE began, and how it has evolved over time.
JH: THRIVE was born from a series of conversations I had with the City of Salinas in 2013, when the city was dealing with a major unemployment crisis. After conducting a SWOT analysis in which we evaluated the city and the surrounding region, we came up with a blueprint strategy comprised of momentum, quick wins as well as a longer term track that would allow us to bring together the agriculture sector in the Salinas region with the technology sector in Silicon Valley. The strategy aimed to build an innovation pipeline of entrepreneurial and tech talent in the region, and then incubate, accelerate and invest in the innovation as it emerged. We presented the strategy of driving smart money into young ideas to key leaders in Salinas, including Bruce Taylor (Taylor Farms) who at the time was the Chairman of the Western Growers Association, and Vic Smith of JVSmith Companies.
Business leaders and the city were very keen to help put new resources into place that would drive the strategy. In the early phases, I introduced things like Coder Dojo, a program originating in Ireland centered around technology and coding for youth and it provided the momentum we were looking for: ultimately working 3000 students across 6 locations in the Salinas region through the program. Beyond CoderDojo, we created the Kuaffman Entrepreneurship Program at Hartnell College which brought 50 community members through an intensive business coaching program. One of the program's students is now the CEO of the agtech company HeavyConnect, which is based in Salinas at the Western Growers Innovation Center downtown. The WG Innovation Center was a huge pillar in the strategy, and its opening on the ground floor of Taylor Farms in downtown Salinas meant that innovators now have a physical launching point to build out their companies: 36 agtech and foodtech companies have located there thus far. Many of these companies have been finalists in the THRIVE Accelerator, meaning that through our program, these teams receive $100,000 in investment and are connected to corporates, universities like Cal Poly and UC Davis, and growers for field trials.
Once we had hit some of our key milestones, we went out to the world to tell our story and Forbes, AgFunder, Irish Times, and San Francisco chronicles ran major stories. Around that same time, we launched the story in front of 200 leaders from the agriculture and technology sectors at the first ever AgTech Summit.
It really does take a village, and it's one that continues to expand. Forbes came onboard in 2016 to host the AgTech Summit which brought 700 leaders and innovators from around the world to Salinas. Since then we have onboarded large partners to the platform, all of whom are helping us to get to the core problems in the agriculture and food industry, source and evaluate targeted technologies, test and prove them, and scale them for broader market use. Having progressive players at the table who eager to communicate their unique and shared challenges and who are open to trying new solutions, is what is going to really transform the industry in a meaningful way. THRIVE is at the center of this.
EB: What are some key agtech trends you are seeing in the market today? 
JH: There is industry wide recognition that something needs to change in respect to labor and food security. At our Innovation Forum last winter, the CEOs of Taylor Farms and Driscoll's Berries both spoke to the fact that their workforce continues to dwindle and eat into margins in a very forceful way. At the opposite end of the supply chain and as equally important, many millions of Americans are stricken with illness as a result of foodborne pathogens. As we open the lines of communication and as our startups continue to work closely with partners and growers in the THRIVE ecosystem, we see agtech oriented more and more towards these real and pressing problems. Some of our startups finalists in our recent startup cohorts, Tortuga Agtech, Harvest Automation, Farmwise (Robotics) and Trace Genomics, California Safe Soil, and Microgen Biotech (Biotech) are but a few examples.
In the past year, a large portion of our startups and partners have come from outside California and the specialty crop sector. We are excited to welcome new entrepreneurs, corporates, and the public sector from Israel, the middle east, Latin America, and China. In addition to geographic diversity, our startups are more female founded and led than ever before. We spoke about this particular trend on a recent panel at the Forbes AgTech Summit with our three female founders from our THRIVE III accelerator class. [Editor's note: Santa Cruz Tech Beat published CEOs present sustainable solutions at Forbes AgTech Summit, July 3, 2017.]
EB: What can we expect from THRIVE in the upcoming year?
JH: In March of 2018, THRIVE will kick off its fourth accelerator cohort. 10 companies from around the world will be selected to participate in an intensive 10-week accelerator program, trial with regional growers, receive an investment of $100,000, and demo at the Forbes AgTech Summit in the summer. The application period will stay open until January 12, 2018.
We will host our second THRIVE Innovation Forum at the Quadrus Center in Menlo Park on February 7, 2018, bringing top agriculture and technology executives and investors together to showcase some of the best growth (Series A+) agtech and foodtech companies in the world. This is part of our annual open innovation program in which we work with the most progressive agriculture brands in the industry to shape their innovation strategies in such a way to test, prove, and compress the commercialization period more quickly than they might otherwise be able to.
This November, we will host the THRIVE Growers Technology Roundtable with our trade association partners, which is the first event to be launched out of the THRIVE Growers Network. We will bring progressive growers of all sizes and purviews to the table to discuss their challenges and to showcase a spectrum of technologies intended for their explicit needs. Ultimately, we realize how important understanding, trust, and credibility are in this industry, so that's what we are after here.
Lastly, we intend to build significant linkages to new regions like China and strengthen our existing relationships with our university and corporate partners. Wells Fargo, which came into the program last year will become our exclusive banking partner. What these partnerships enable us to establish is an understanding and rapport with new regions, scale technology in new markets, and allow innovators and leaders of backgrounds to shape the conversations around agtech and foodtech.
###
If you wish to republish this article, please follow our Terms of Use.
###
Tagged agtech, Salinas, Thrive Accelerator, Western Growers