Companies
Startups get financial boost: Entrepreneurs pitch products at CSUMB competition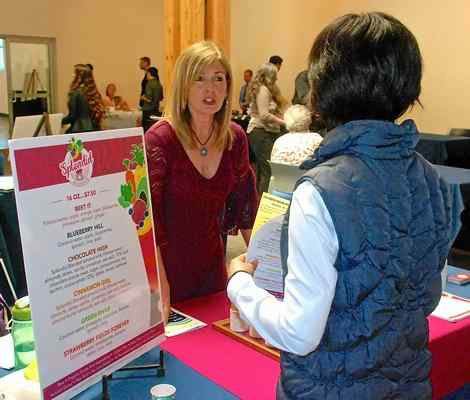 By Tom Leyde
Monterey Herald
May 15, 2018 — Salinas, CA
(Photo above: Nancy Cibotti, founder of Splendid Blended, a natural fruit and vegetable drink company, explains her products to a woman attending the Startup Challenge Monterey Bay in Salinas. Credit: Tom Leyde)
Welcome to the Otter Tank. It's like "The Shark Tank" TV program only more cuddly.
At the Cal State Monterey Bay, City Center on Saturday, May 12, new entrepreneurs in Monterey and Santa Cruz counties presented their startups to six judges. Their goal: to win prize money and advance their businesses.
It was the ninth annual Startup Challenge Monterey Bay, sponsored by the CSUMB Institute for Innovation and Economic Development. The institute is housed in the university's College of Business.
This year's challenge began in April when entrepreneurs gave a brief outline of their business to judges. Between then and Saturday, they perfected their presentations.
Competition is in three categories: the Student, Main Street and Venture divisions. It was narrowed Saturday from 25 total startups finalists to four student finalists and three each in the Main Street and Venture divisions.
The Main Street finalists competed in the Otter Tank. The Venture finalists competed in the Venture Showcase.
Khadija Hafiz and Jillian Flavin, both students at Middlebury Institute of International Studies, won the student division Saturday morning and a $1,500 cash prize.
Their business is called Boho Marketplace. They plan to connect businesses to health insurance companies. The big difference is that a percentage of profits will be shared with families in markets that are underinsured, through the Boho pool.
The idea for the company was hatched in a business strategy course Hafiz and Flavin took. Both are working on their master's degrees at Middlebury and will graduate in December. Hafiz said the company business is modeled after the United Nations' sustainable development goals.
The two will be working on incorporation and trademarking in the next 10 days.
Saturday's prize was the second Boho Marketplace has won. They previously won $1,500 in an entrepreneur competition in Bankok, Thailand.
"We feel it (Boho Marketplace) could go international," Hafiz said.
Finalists in the Otter Tank were the first to pitch their ideas to the judges Saturday. First was Nancy Cibotti of Aptos, founder of Splendid Blended. The company makes and markets a line of natural fruit and vegetable drinks.
"I'm going to the Otter Tank," Cibotti said while giving out samples of her products. "I'm more nervous than I was this morning."
Continue reading article here: http://www.montereyherald.com/social-affairs/20180512/startups-get-financial-boost-entrepreneurs-pitch-products-at-csumb-competition
###
Tagged CSUMB, Salinas, startup challenge