Events
Salinas Valley Energy Forum Attracts Record Audience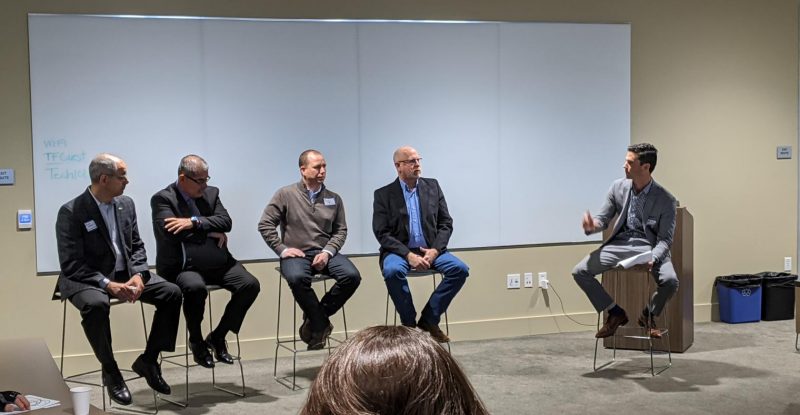 Source: WGCIT AgTech Blog
February 11, 2020 — Salinas, CA
(Photo: Panel of expert energy developers provide insight at Salinas Valley Energy Forum. Source: WGCIT AgTech Blog)
Energy along the 101 corridor in the Salinas Valley is a pain point for anyone involved with produce. With questionable power quality and potentially ten years of PG&E power shut-offs ahead of us, unreliable energy poses a major disruption to businesses. Fortunately, the energy industry as a whole is going through a transformation, with significant benefits to the ag industry. WGCIT resident Concentric Power assembled an expert panel of energy developers, government agencies and solution providers to offer insight on energy solutions geared toward sparing businesses from the next outage and saving them money while meeting corporate sustainability goals. Panel members included:
Brian Curtis, founder and CEO, Concentric Power
Gregg Morasca, Vice President of Strategic Customers, Schneider Electric
Norm Groot, Executive Director, Monterey County Farm Bureau
Rene Mendez, City Manager, City of Gonzales
Matt Willis, VP Project and Business Development, Concentric Power
Dennis Donohue, director of the Western Growers Center for Innovation & Technology, started the event by discussing the mission of the Center and introducing Concentric Power CEO, Brian Curtis, to the standing-room-only auditorium. Curtis was careful not to make the event a two-hour advertisement for Concentric Power; he kicked off the panel discussion with an overview of macro-trends in energy usage by Salinas Valley farmers, coolers, and processors. Curtis did a fabulous job of setting the stage with the challenges facing agriculture.
Continue reading here: http://www.wginnovation.com/blog/salinas-valley-energy-forum-attracts-record-audience
###
Tagged Salinas, Salinas Valley