Companies
LitmusBox advances to final round of venture startup challenge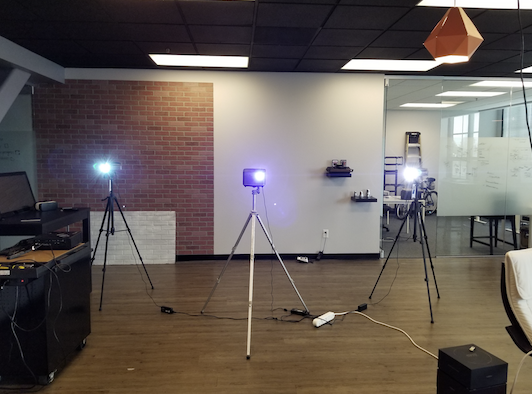 By JT Mudge
Owner & Chief Experience Innovator, LitmusBox
May 2, 2018 — Santa Cruz, CA
(Photo above: Testing projection mapping in the Litmuxbox lab. Contributed.)
[Editor's note: LitmusBox is a Digital Engagement Agency that works with brands and other agencies to help them better understand user experiences and engagements. They have a user engagement lab in downtown Santa Cruz where companies can come in and explore new ways to interact with their customers and users.]
When pursuing a dream, it helps to have the support of a community. Mentors, peers, customers, friends and family, they all make up an integral support network that every startup needs to succeed.
We are very fortunate to be a part of such a community, both in Santa Cruz and the larger Monterey Bay area. It really is a place of innovation, creativity, and entrepreneurship, three vital aspects to starting a business.
One of the advantages this year for us is participating in Startup Monterey Bay's Startup Challenge. This is not only an opportunity to win a prize but also to test out ideas, practice pitches, and learn from both peers and mentors.
We were very excited when we found out that we had advanced to the final round of the Venture Division on May 12, 2018. There are a lot of other great companies in this round, and we are proud to be among them. One thing they all seem to have in common is that they started small with an idea – and a passion.
An idea and a passion
Our story is not much different. A year ago I pursued my dream of creating an innovation lab — a place where our agency could experiment with technology and create new solutions for our clients. The lab has given us a place to explore the "what if" scenarios that we are always throwing around the office.
Another great benefit of our lab is that it allows us to share our ideas with those in the community and get feedback. We have visitors in our lab every week and we can quickly tell how well formed an idea is by how we are able to explain it and how others receive it. If we can't explain it well, then it either is shelved or goes back to the team for more work.
Then there are those ideas that we are constantly working on, that we just can't let go of. It was one of these experiments in our lab that lead to our entering the Startup Challenge.
The spark of an idea
A lot of great ideas start with a spark when troubleshooting a problem. We were brainstorming ideas for a digital experience in a performing arts center when we realized one of the biggest issues with organizations like ballet companies, symphonies, etc. is that they often do not have the level of funds that other organizations do when creating digital experiences. In addition, they have issues with getting board approval and even the proper local licenses to install anything.
That is when we got the spark.
What if we created an experience that was both engaging and actually makes money for the organization?
The Donation Wall
We looked at all of the issues that venue based organizations face regarding user engagement at their venue and came up with The Donation Wall, an easy to install projection based system that creates a subtle yet engaging experience for the visitor while creating leads and revenue for the organization.
The great thing about having a lab is that we have a lot of toys at our disposal to innovate. It did not take us long to create a prototype of The Donation Wall to experiment with and get feedback.
When we showed this to others, we quickly realized that we were onto something
It is easy to explain.
People get it.
People couldn't stop looking at it and would even go up to the wall to touch the names.
With a little help from our friends
Sometimes the best ideas linger, not because of a lack of passion but what we like to call "putting food on the table," specifically our tables. Client work often took precedence over the past year and sometimes it was hard to find time to continue our work.
That is where community comes back in. Encouragement from the community and events like Startup Challenge pushed us to move forward and reorganize our company to create time and resources to work on The Donation Wall.
We are very excited to present the Donation Wall to the Startup Challenge Venture Showcase. It really is not a win or lose situation but another great community opportunity for us to grow our startup into something much larger.
A special thanks to Startup Monterey Bay and all of those in the Santa Cruz community for their continued support!
###
If you wish to republish this article, please follow our Terms of Use.
###
Tagged CSUMB, Litmusbox, startup challenge