Companies
SellHound Launches Game-Changing Online Resale Tool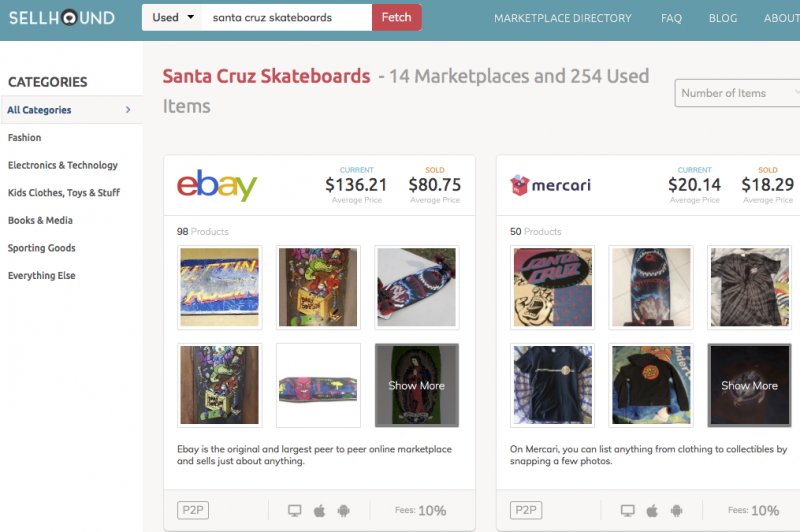 By Alicia Earle
Director of Marketing, Sellhound
April 25, 2018 — Santa Cruz, CA
"Making selling online as easy as buying."
SellHound, a fast growing Santa Cruz startup focused on simplifying selling secondhand items online has just launched its first tool for sellers. Our comparison selling search tool is the first of its kind for aggregating secondhand marketplaces and items. Enter an item you'd like to sell, hit "Fetch" and you'll be served with the many marketplaces you can sell your item, as well an average current and sold price. The Fetch tool has been very well received by new users and seasoned sellers alike.
The new SellHound website also features the first ever Secondhand Marketplace Directory with information outlining the hundreds of marketplaces for selling different categories of items (think fashion, electronics, sporting goods) and different ways to sell (think local pickup vs. shipping an item across the US) as well as fees, links and other pertinent marketplace information.
SellHound has some big ideas for the future stuff. We believe that getting rid of your excess stuff should be profitable and accessible. This ethos, along with robust technology and a fantastic team has garnered around $500,000 in initial investment. The next launch is coming soon. We are building and testing our new app which uses image recognition, AI, crowdsourcing and in house selling experts to create optimized listings for items you'd like to sell, based just on photos of the items.
About SellHound
SellHound is an online resale platform that uses AI and human intelligence to make online sellingas easy as buying. SellHound was founded by its two revered "co-Hounders," Geoffrey Dillon and Suzanne Wouk. Dillon, five-time CEO with an expertise in medical technology, is a seasoned leader and innovator. Wouk, a self-proclaimed Ebay hacker and serial entrepreneur has long been participating in the recommerce space.
Opportunities for seed stage investment are closing, contact Geoff@SellHound.com for more information.
###
Tagged SellHound