Companies
Tech Saves America at May's Tech Meetup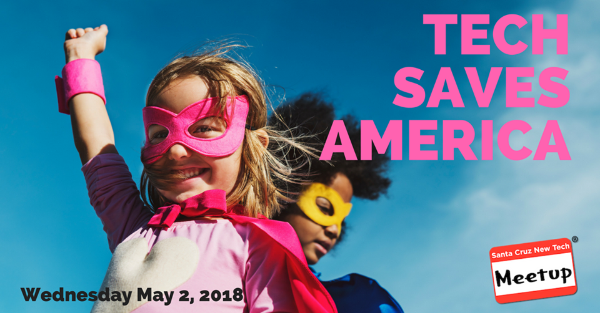 (contributed)
April 19, 2018 — Santa Cruz, CA
Ed Tenner / The Efficiency Paradox, United.Vote, LawMaker, Civinomics, RoBhat Labs
Santa Cruz New Tech Meetup, 846 Front Street, Santa Cruz

Wednesday, May 2, 6pm networking, 7pm presentations
NEW VENUE: Santa Cruz Vets Hall
Tickets here
Early Bird Entry fee is $15, $25 at the door. Early Bird student fee is $10; or $15 at the door (show ID at door).
What lessons have been learned by tech companies in America after the recent elections? And what do we need to know going forward? We open this event with author Ed Tenner who will present his new book "The Efficiency Paradox". Learn how AI negatively impacted the Cambridge Analytica incident.
And…
TechCrunch / Neesha Tambe – presenting on the growth of tech companies who are focused on political and security issues. She'll be touching upon the topic of regulatory challenges from the perspective of startups.
United.Vote / David Ernst – tech is creating a new democracy for the modern world where everyone has a voice on every issue, and we can trust our representatives!
LawMaker / Amit Thakkar – propose policies, build coalitions, rally votes, rise up!
Civinomics / Manu Koenig – the launch of an all-new platform for interaction at a local level on matters that impact your community.

RoBhat Labs / James Rigassio

 – fed up, two UC Berkeley students launch tools to spot bots. Users can see if the account is run by a person or automated program.
NEW VENUE: as this month is an important discussion for America, we will hold this event at the Santa Cruz Vets Hall.
Additional presenter details to be provided 5 days prior the event. The venue may change to fit a larger audience. A panel discussion will be held. Learn about hot new technologies and mingle with 300+ fellow entrepreneurs, investors, bloggers, and tech enthusiasts. Doors open at 6:00pm, presentations start at 7:00pm. Early Bird Entry fee is $15; or $25 at the door. Early Bird student fee is $10; or $15 at the door (show ID at door). Our event includes food, beverage, and live music.
###
Tagged Santa Cruz New Tech Meetup