Events
Launchpad awards $40K to three UCSC technology projects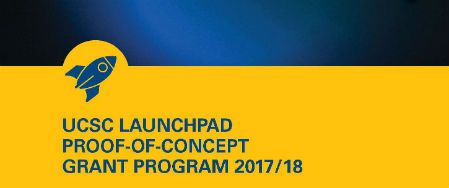 (Source: UCSC Office of Research website)
Launchpad is one of seven innovation and entrepreneurship support programs under IATC's SPLICE program
April 3, 2018 — Santa Cruz, CA
The UCSC Industry Alliances & Technology Commercialization (IATC) Office is pleased to announce the Winter/Spring 2018 Launchpad Proof-of-Concept Grant award winners.
Launchpad is one of seven innovation and entrepreneurship support programs under IATC's SPLICE program. Launchpad assists promising UCSC technologies in becoming commercially viable. In March, 2018, two innovative proposals were awarded $15,000 each and a third was awarded $10,000. This resulted in $80,000 in total funding when the UCSC awards ($40,000) were combined with the external matching funds ($40,000).
Congratulations to the project leads of the Winter/Spring 2018 Launchpad grant awards:
Radiation Hardened AC-Ultra-Fast Silicon Detector (UFSD)
This project from the SCIPP lab will increase the radiation tolerance of the particle detectors used in particle detectors by a factor of 5-10 times. Silicon detectors are at the heart of very large particle detectors such as the Large Hadron Colllider (LHC) in Geneva Switzerland and also smaller instruments in medical applications, for example the Proton CT Scanner, developed at UC Santa Cruz. This invention also has applications in the next generation medical applications for both diagnosis and treatment.
Detecting Tissue-Specific KRAS Mutations by Noncoding RNA
This invention tranforms liquid biopsy by detecting RNA instead of DNA. While existing DNA based tests can show that a cancer-causing mutation is present they do not have tissue specificity. Using RNA this method allows specific determinations about the presence of cancerous mutations in lung and pancreatic tissue.
Alzheimer's – A New Approach: Evaluation of Short Chiral Peptides to Reduce Amyloid Beta Toxicity
This invention is a novel strategy to treat Alzheimer's that converts toxic Amyloid beta oligomers into Amyloid beta fibrils. Our patented chemical process uses mirror image peptides to do this conversion. The process has already been shown to successfully inhibit toxicity of the proteins that make up the plaque in prelimanry studies.
###
Tagged launchpad, UC Santa Cruz