Events
Seeding Innovation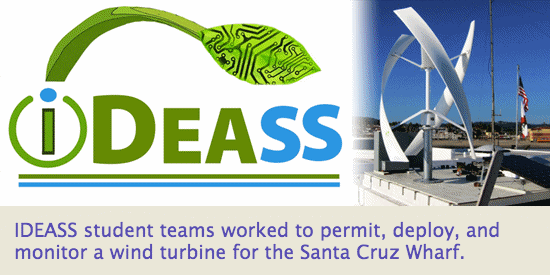 by Tamara Ball
UC Santa Cruz, IDEASS
Explore sustainable technology with today's youth
Film / Youth / Community / Sustainable Living / Green Technology / Engineering
Friday, October 3, 2014, 5-9 PM
Monterey Bay National Marine Sanctuary Center
35 Pacific Avenue, Santa Cruz, CA
This event is free and open to the public
The UCSC-ASCEND Program in collaboration with Monterey Bay National Marine Sanctuary (MBNMS) will be hosting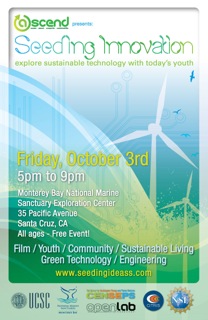 an event centered around ecological design and sustainable engineering projects taking root right here in our central coast community. UCSC undergraduate students and teens at the Natural Bridges Center for Green Careers have been collaborating on some game changing projects this year including: solar panels that use raspberry juice instead of silicon, anaerobic digesters that turn compost into fuel, and eco-friendly super capacitors capable of charging faster than any other battery on the market. These projects combine cutting edge technology with social entrepreneurship while adhering to ecology and sustainability as guiding forces. Now it is time for them to share their stories with our community and for Santa Cruz to get a glimpse into the next generation of big thinkers and creative technologists.
The event will be held at Monterey Bay National Marine Sanctuary's state of the art Exploration Center located at 35 Pacific Avenue in Santa Cruz. It will include films and demonstrations that highlight student initiated projects, focused on sustainable living and green engineering. Come learn more about implementing sustainable solutions at home or in the workplace. Community members can connect with university researchers, industry professionals, and our next generation of students [who are] all dedicated to finding community based solutions that address our global problems. Seeding Innovation will provide an energetic and supportive space for locally rooted solution-focused discussions about what we can do together to bridge the gap between technology, innovation, and ecology.
Santa Cruz is known for its ability to incubate, create, and carry out new, innovative, and creative living solutions, which elevate our community to a higher level of sustainable living. We hope that participants will be inspired by the groundbreaking solutions and new ideas all seeded in the minds of our youth, and to use this inspiration to get involved in progressive partnerships between industry professionals, university researchers, and the local community.
For more information:
###
Tagged IDEASS, UC Santa Cruz