Events
Doug is employee #171, and more from May Tech Meetup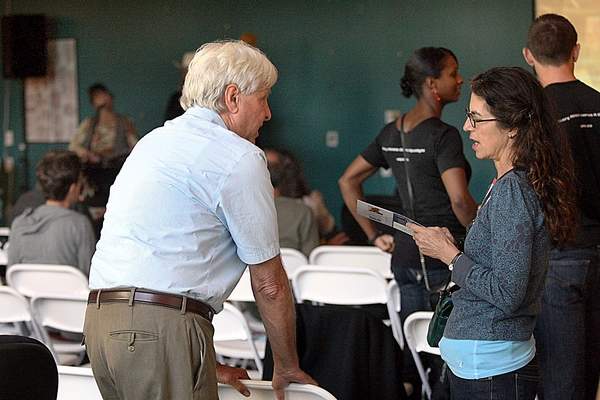 By Jondi Gumz
Santa Cruz Sentinel
May 8, 2015 — Santa Cruz, CA
(Photo above: Charlie Zimmerman of Sheldon Wiseman chats with Sara Isenberg at the Santa Cruz New Tech MeetUp last week at Cruzio. Zimmerman said tours of the Enterprise Technology Centre will be available next week. Photo credit: Dan Coyro)
When Doug Erickson, founder of the Santa Cruz New Tech MeetUp , saw Nanigans raise $24 million for global expansion, he texted his friend at the advertising automation software startup a note of congratulations, adding, "You know this is what I do."
The two met less than a week later, and now Erickson has a new title, vice president of international business development for Nanigans.
"I did ask him how much of the $24 million I could have," quipped Erickson, introducing John Marsland of Nanigans to 200 people at the meetup Wednesday night at Cruzio.
Nanigans, founded in 2010, is a marketing partner with Facebook with headquarters in Boston and offices in San Francisco, London, Sydney and Japan.
"Doug is employee No. 171," said Marsland, Nanigans' senior vice president of analytics and formerly at Zynga.
Continue reading article here: http://www.santacruzsentinel.com/business/20150507/nanigans-scoops-up-santa-cruz-talent-amazon-recruiting-mobile-team
###
Tagged Santa Cruz New Tech Meetup