Featured
Makerspace brings high-tech tools to Cabrillo College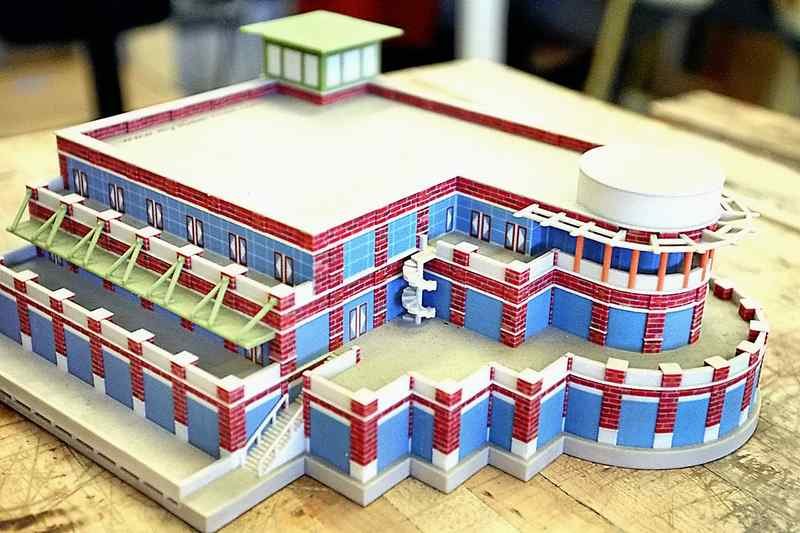 January 24, 2018 — Aptos, CA
(Photo above: Gypsum printed architectural model produced by a 3-D printer at the Cabrillo College Makerspace. Credit: Dan Coyro.)
[Editor's note: For background, read Cabrillo College Poised to Become a Real "Mover and Maker" for the Region and Cabrillo Fab Lab: Building Ideas, two articles previously published by Santa Cruz Tech Beat.]
Layer by colorful layer, plastic figurines form in the bellies of a row of 3-D printers at Cabrillo College's new Makerspace.
The figurines, slowly growing into a rainbow of gnomes in pointed hats, seem oddly juxtaposed with the workshop's high-tech equipment until Makerspace Director and Art Studio Instructor Payson McNett invokes a quote by the late science fiction author Arthur C. Clarke: "Any sufficiently advanced technology is indistinguishable from magic."
Standing in a workshop with the ability to print, etch and cut an array of materials into almost any imaginable design, it is easy to understand what Clarke meant.
"This space is truly cross-disciplinary," McNett said. "It's all about breaking down the silos, getting everybody from different areas and showing how interconnected our education really is."
The Makerspace came to Cabrillo as part of statewide initiative to prepare community college students for jobs and spur innovation and entrepreneurship by providing access to high-end fabrication tools that would otherwise be out of reach.
The training is also aimed at meeting rising industry demands for a workforce trained in fabrication. The 3-D printing market alone predicted to rocket from $9 billion in 2017 to $32 billion by the year 2023, according to a July forecast by market-research firm MarketsandMarkets.
Cabrillo was among 24 California community colleges selected by the state to build its own digital and analog workshop, for which it received a $700,000 grant.
Continue reading article here: http://www.santacruzsentinel.com/social-affairs/20180123/makerspace-brings-high-tech-tools-to-aptos-cabrillo-college
###
Tagged Cabrillo College, makerspace